Preview of Baselworld 2017, Harry Winston reveals a delightful recreation in 18K white gold of the flowering of the cherry blossom tree.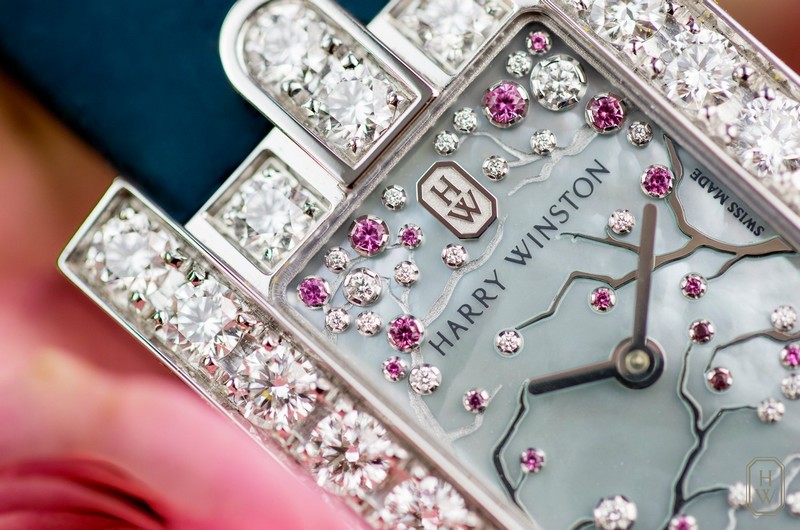 "Hanami" is the Japanese centuries-old practice of picnicking under a blooming sakura or ume tree. The custom was originally limited to the elite of the Imperial Court, but soon spread to samurai society and, to the common people as well. Tokugawa Yoshimune planted areas of cherry blossom trees to encourage this. Under the sakura trees, people had lunch and drank sake in cheerful feasts.
For its pre-Baselworld 2017 timepiece, Harry Winston captures the ephemeral beauty of the cherry blossom tree on the dial of the enchanting new Avenue Classic Cherry Blossom. In Japan, cherry blossoms symbolize clouds due to their nature of blooming en masse, besides being an enduring metaphor for the ephemeral nature of life.
"The background is crafted from pale green-blue mother-of-pearl and uses the natural iridescence of the nacre to simulate clouds on a blustery spring day," says the American luxury jeweler and producer of Swiss timepieces.
A flurry of 39 brilliant-cut diamonds and 29 brilliant-cut pink sapphires dispersed across the dial represent the flowers and petals of the cherry blossom tree. Cut in different sizes to create a sensation of depth and movement, the precious gemstones ensure that the beauty of the bloom will never fade.
The Harry Winston white gold case recalls the supporting arches of the the 5th Avenue Salon entrance.
The transience of the blossoms, the exquisite beauty and volatility, has often been associated with mortality and graceful and readily acceptance of destiny and karma; for this reason, cherry blossoms are richly symbolic, and have been utilized often in Japanese art, manga, anime, and film, as well as at musical performances for ambient effect.
On January 14, 2013, Harry Winston, announced that it has entered into an agreement to sell its luxury brand diamond jewelry and timepiece division, Harry Winston to The Swatch Group. The transaction included the brand and all the activities related to jewelry and watches, including the 535 employees worldwide and the production company in Geneva (Switzerland).