Characters that reveal the most closely guarded aspects of our personality. Which Crazymal are you? Alongside Super Pig, Cool Bear, Funky Monkey and KissMe Frog, born in 2009, seven new characters now come to life at 2017 Baselworld.
deGRISOGONO's irreverent little creatures called Crazymals are back! From the top of Mount Lee and its iconic hills to the palm trees of Palm Springs, meet Lady Flamingo, Crooner Snake, Great Ladybug, Stogie K, Tux'Penguin, Hip Hop Panda and Buddy. Designed to make you smile on, the collection includes seven jewellery figurines. The characters can be worn as rings or pendants. Their amusing and animated heads, bodies, arms and legs come to life. From the front, they cheekily display their distinctive attire, while from the back,they reveal the openwork scrolling motifs emblematic of the Maison de GRISOGONO.
Crazymals is a team of joyous creatures with a laid-back manner. These precious beings are set with 1001 stones, whose many details and mobile accessories prove that one can master the most complex jewellery techniques and revisit their codes whilst having fun.
At this year's Baselworld, deGRISOGONO also presents its new Retro Skeleton Tourbillon. Its skeletonisedmovement is elegantly framed by a sapphire crystal case offering a panoramic vision of time.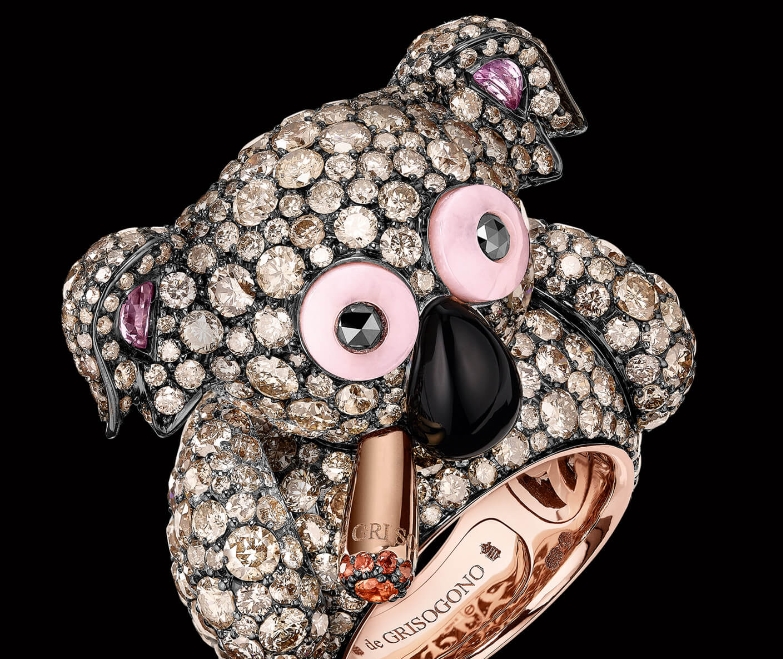 Stogie K
This godfather of the movie industry is the natural patriarch of the de Grisogono Crazymals family. While the oasis of Palm Springs comes right into the living room through its large French windows, a figurine with a unique, deliberately dishevelled appearance studded with brown diamonds and pink sapphires, smokes a fat stogie made of rose gold set with orange sapphires.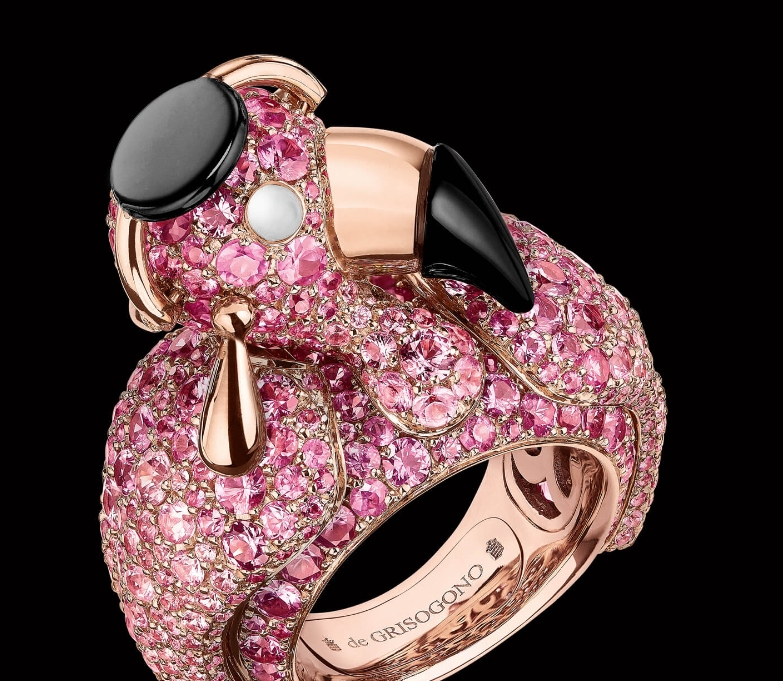 Lady Flamingo – Life in flamingo pink
A Gocce rose gold pendant hangs from her ear. She reveals a slender figure in a dress set with 239 precious stones and her high boots are carved in rose gold. Ready to dive into the turquoise swimming pool at Twin Palms with her golden flippers, she loves to sip a Sea Breeze accompanied by pink shrimp.

Tux'Penguin
Tux'Penguin sports a tux made of black diamonds, a poplin shirt made of white diamonds and a bow tie in gold and red nano-ceramic. On his feet are orange moccasins made of sapphires, completing his signature look.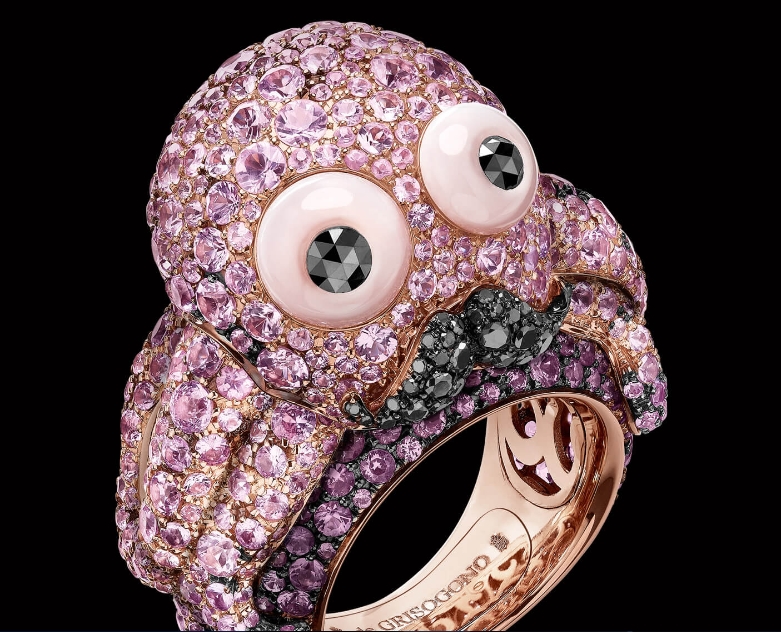 Buddy. Alias Movember – Moustache sex appeal.
He actually looks good in anything, including the electric-blue nuances of an amethyst suit. This sex symbol carries off his moustache superbly and with great generosity, as an emblem of his undeniable virility. Didn't his mobile ink-coloured moustache made of black diamonds inspire the Movember movement? An unparalleled stuntman, he keeps fit and has a sturdy body in rose gold. The king of balance is also a great showman.
Nobody within reach of his tentacles can resist him.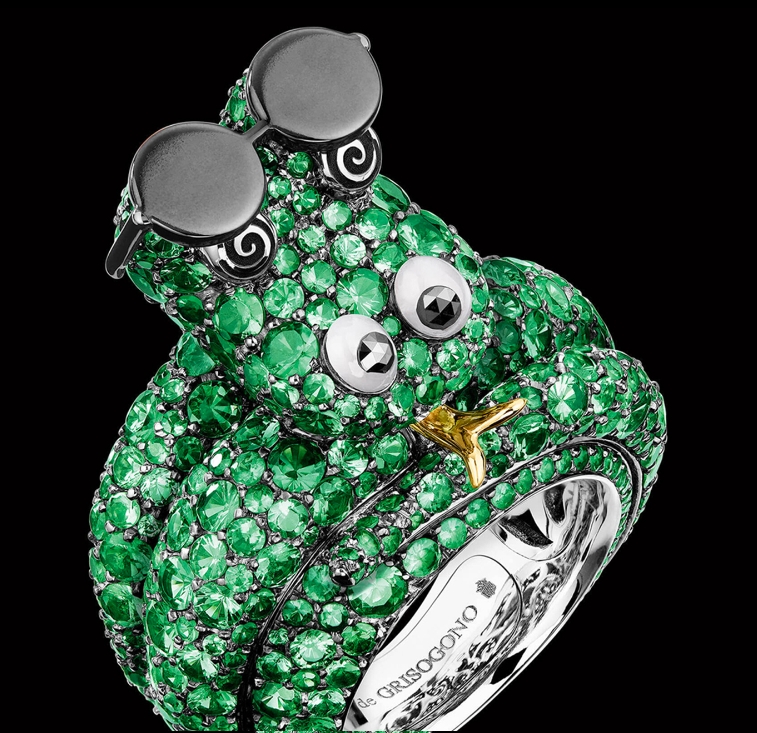 Crooner Snake. Alias Frankie – I've got you under my skin
A charmer with the soul of a bad boy who, from the very tip of his velvet-smooth rose gold tongue, entertains his friends at events and the wildest pool parties in Palm Springs.
Great Ladybug
Perched like a diadem on top of her head and shining in the middle of her face are tiny onyx balls. Across spread wings of red sapphires and diamonds, her soul floats above the most iconic letters in the world – a tribute to her unparalleled record of Oscars.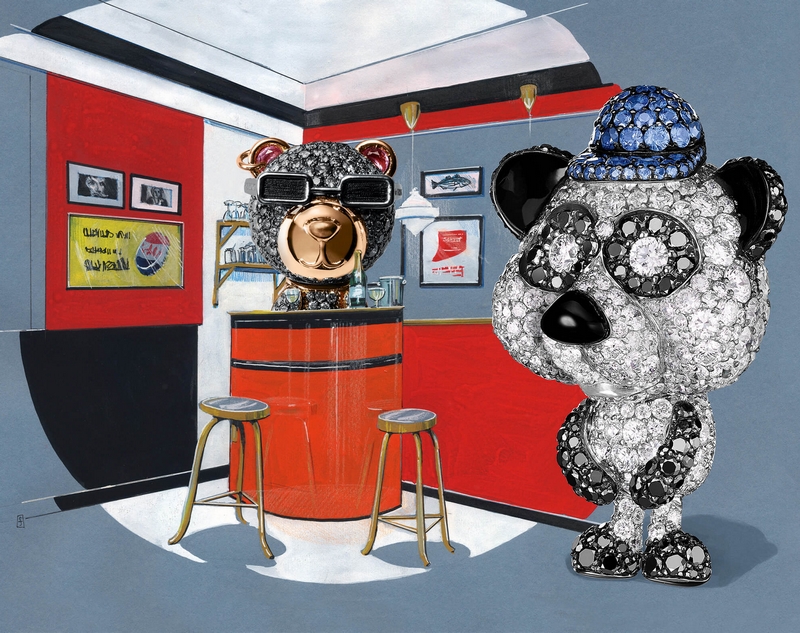 Hip-Hop Panda – Alias The Bo$$ – Rap Game
With a head-turning blue sapphire cap, hipster beard and deep voice, he does not go unnoticed. An imposing figure distinguished by his stature and his obvious immoderation. On his body, he bears tattoos of black and white diamonds beneath a diamond silk shirt.