Missoni's First Condo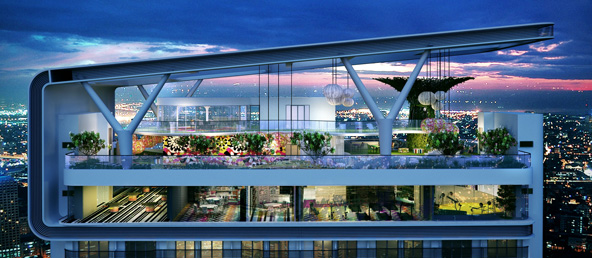 By 2015 Missoni will have its first condominium tower in Philippines. The $315 million residential project called Acqua Livingstone, is 25 percent sold, according to the Manila-based developer Century Properties.
"We brought our colors and our style inside. It's a happy, positive approach: summer colors, solar colors. Coming from the outside
you're going to be surprised. … It's like opening a box and discovering something unexpected," Vittorio Missoni said of the 52-story building."
Perched atop Acqua Livingstone with sweeping vistas of the Pasig River and the Makati skyline, the top floor of the tower, called the "Canopy" is a split level complex built around a holistic view of human pursuits. The lower level contains functions rooms, business centers, gyms, library, spa, and other amenities that promote health, wellbeing, and cultural curiosity.
The upper level is a social space dedicated to interaction and entertainment. It houses an amphitheater, DJ booth and dance floor, pool, and BBQ facilities, ideal for parties and get-togethers.
The Missoni Condo is not alone in Makati, a section of the Filipino capital. Versace-branded tower is also building here. Century Properties said that 80 percent of it is sold. Last year, the developer had a partnership with Paris Hilton to design the clubhouse for another luxury residential project in Manila. The curent developments include Trump Tower Manila, Centuria Medical, Milano Residences, City of the century and others.
"It's above and beyond what we're used to when it comes to traditional luxury living in a developing country," said Robbie Antonio, the managing director of Century Properties.