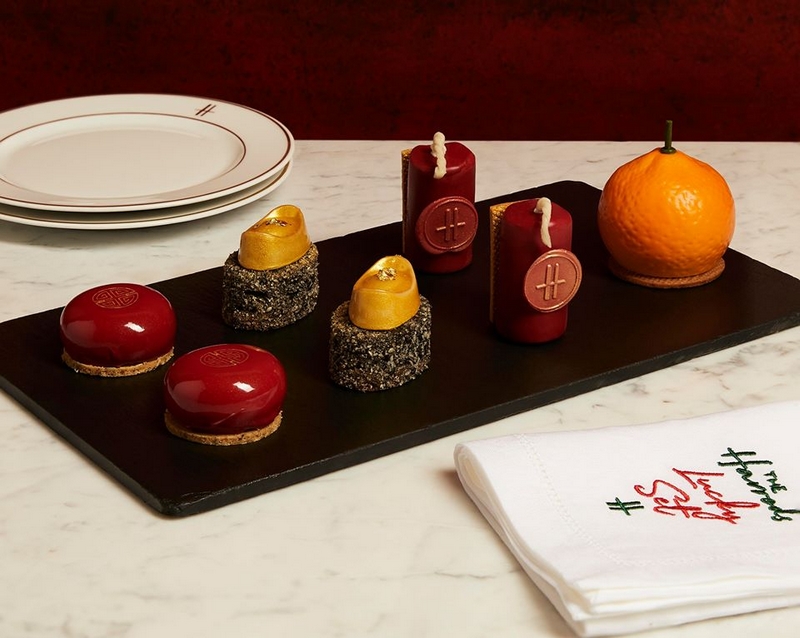 Gifts to celebrate the 2020 Year Of The Rat – the first sign in the Chinese Zodiac, known for its passion and strong intuition.
For a limited time only, Harrods' traditional afternoon tea will bring together East and West to celebrate Chinese New Year. In partnership with Fen Chiew, the famed Baiju spirit, and inspired by the game of mahjong, the special tea menu features bespoke mahjong-tile chocolates, a beautiful patisserie selection inspired by Chinese good-luck symbols, savoury sandwiches, and of course, Harrods' scones. Top it all off with a new signature cocktail bringing together Fen Chiew and Harrods tea in a delicious concoction.
Estée Lauder Year Of The Rat Powder Compact
Estée Lauder Year Of The Rat Powder Compact is filled with the high-end label's Set. Blur. Finish. Perfecting Pressed Powder – a silky, feather-light formula that perfects with a matte-not-flat effect.
Becca Shimmering Skin Perfector Year of the Rat (Pressed powder)
Becca celebrates the Year of the Rat with this collector's edition Shimmering Skin Perfector. In the shade Moonstone, the cult-favourite highlighting powder bears a charming embossing and is packaged in a glamorous golden compact for the Lunar New Year; simply swirl it over cheeks and tap onto browbones for a dusting of luminescence under the light of the moon.
Baccarat Zodiac Rat Crystal Figurine (Height: 10cm approx)
Baccarat celebrates the start of a new zodiac cycle in 2020 with this rat figurine. Elegantly rendered in the signature clear crystal with an extraordinary depth of detail, the first animal of the calendar is brilliant and mischievous, and represents the beginning of a new day – as depicted in the inquisitive and curious stance of this collectible design.
Tiziana Terenzi Tempel Comet Extrait de Parfum
Composed of a multitude of feminine florals and endlessly seductive amber, this perfume with top notes of Lily of the valley, Narcissus, and Magnolia is for a powerful woman who wants a fragrance to match.
Fen Chiew Blue Flower 48% ABV (50cl)
With origins tracing back over 6000 years, Fen Chiew became world-renowned for its white spirits, such as the Blue Flower. Opening with a herbal palate of intense saffron, umami, rosemary, dill and sage, it envelops tangy orange notes for a streamlined, powerful finish. Pour over ice and fresh fruit for a decadent take on cocktail hour.
Harrods Chinese New Year 2020 Plush Toy (25cm)
Take on the new year with this furry friend by your side, with a padded nose and charming oversized ears, it has a glossy ribbon around its neck.

Dolce & Gabbana Flap Front Shoulder Bag
This shoulder bag from Dolce & Gabbana will lend some Italian sophistication to her new season portfolio. Expertly crafted in Italy from patent leather, Dolce & Gabbana Flap Front Shoulder Bag is cut in a classic flap front silhouette with an adjustable shoulder strap and logo plaque. Set in a wear-with-anything pill box red, it is perfect for pairing with day ensembles.
Aspinal of London x Giles Deacon Aspinal Girls Slim Silk Scarf
A refined accessory from Aspinal of London designed alongside couture designer Giles Deacon, this silk scarf celebrates all that is British with an Aspinal Girls illustration, inspired by label's customers and the Queen's Guards. Printed upon silk, wrap it around the handle of your favourite accessory or tie around your neck for a feminine finish to any sophisticated ensemble.
Baccarat Luxor Crystal Vase (21cm)
Inspired by the architecture of Ancient Egypt, this Louxor vase from Baccarat promises an elegant addition to a refined interior. Crafted in France from the finest crystal, watch light enhance, flicker and refract beautifully through the stunning piece. Equally, as head-turning filled with flowers or stood alone.
Paul & Shark Year of the Rat T-Shirt
The shark motif that you would typically expect to find adorning a Paul & Shark T-shirt is replaced by a rat, appropriately referencing 2020's place in the Chinese zodiac. Casually sporting a beanie, the chirpy character is rendered in a charming cartoon style to give it some cute credentials. The brand's impeccable legacy in yachting is not forgotten, with the rat seen peeking through a graphic porthole.
MCM Chinese New Year Stark Backpack
In celebration of the start of a new Zodiac calendar in 2020, the MCM Chinese New Year Stark backpack sees a playful rat and cheese appliqué set atop the brand's illustrious Visetos coated canvas.
L'Artisan Parfumeur Crepsculum Candle (Burn time: Up to 70 hours)
Infused with resinous, woody and smokey tones with hints of pine, incense, and patchouli in a vibrant red case, L'Artisan Parfumeur Crepsculum Candle suits twilight best when winding down.
Burberry Ribbed Hem Puffer Jacket
Filled with duck feathers for supreme, soak-proof comfort, little ones can rest assured. Ribbed along the cuffs and hem in the brand's renowned Icon stripe, the Burberry London monogram is stamped onto the arm to create the definition of refined showerproof style.
Guerlain Eau de Cologne Impériale
For Chinese New Year, Guerlain's iconic Eau de Cologne Impériale is adorned with a precious red design for a festive limited edition. Striking a harmony around refined floral accords, its fresh citrus notes of lemon and bergamot flirt with petitgrain, while the floral magic of neroli softens this crisp bouquet.
Bentley Beyond The Collection – Rich Pimento Eau de Parfum
Inspired by founder Walter Owen Bentley MBE's love of travel, Bentley Beyond is a collection of exclusive fragrances, with Rich Pimento taking you on a journey to the lush landscapes of Cuba. The evergreen pimento tree sits at the heart of this woody edition; bergamot and rhubarb along the top spark a refreshing introduction, while a base of patchouli, cedarwood and amber anchors this eau de parfum with lingering warmth.
Mini Rodini Rollneck Ritzratz Print Dress
Adorned in an all-over print of the label's Ritzratz character, this adorable rollneck dress from Mini Rodini is rendered in organic cotton with a hint of stretch for her comfort. Cut to an A-line silhouette, it makes for the perfect partner to wear atop a pair of tights in the colder months.
Rodial Chinese New Year Kit
Rodial's Chinese New Year kit brings you the bestselling products from the Dragon's Blood skincare range. A beauty-insider favourite since its release in 2012, it has become one of the London-based label's most coveted collections. This trio gift set is the perfect way to discover new must-haves this festive season; wipe away dirt with the Cleansing Water, following with a generous helping of hyaluronic-rich Velvet Cream, before completing your skincare regime by tapping the Eye Gel around the contour area for an instantly refreshed, brighter complexion.
Teaspec Hearty Ripe 2015 Pu'Er Tea Cake
Made from a sun-dried broad-leaf species from the Yunnan mountains in China, Teaspec's Pu'er tea has been shaped into a cake for a lengthy enjoyment. The leaves are ripened with a traditional fermentation process that removes the astringent bite of the raw materials, and creates a tea rich in anti-inflammatory properties said to reduce bad cholesterol and aid in digestion.
MAC Lunar New Year Lipstick and Blush
Celebrate the season of renewal with this MAC Lunar New Year lipstick and blush duo. Inspired by the ancient Chinese calendar aligning to cycles of the moon, this limited edition incarnation of two ofthe brand's signature products are encased together in artistic packaging, decorated with peonies and lace against a backdrop of gleaming metallic red, a shade that symbolises luck in the Far East.