The working world is changing, guided by the principles of mobility, connectivity, and responsive customization.
Being independent but working together: open-plan offices are about co-working, where the office is no longer a physical location, but first and foremost the portable tool you need wherever you may be.
At the Salone del Mobile 2019 furniture show (9th–14th April, Fiera Milano, Rho), Tecno presents some of its iconic products side by side with its innovative furnishings, resulting from the requirements of today's environments and intended to play host to collective, shared and flexible ways to work.
WE partition walls become the key feature to create these projects in small and medium sizes, which require freedom of spatial organisation, speedy installation and the possibility of reconfiguring the interiors. Alongside these stands the innovative Linea micro-architectural system, which organises and defines dynamic, customised layouts with the possibilityof integrating work surfaces, seating areas and various sized storage units or lockers.
Owing to the possibility of incorporating the io.T system, settings take on responsive qualities that the user can customise. This is an opportunity open to both businesses and private individuals, which can be grabbed by creating a community of connected furnishings that can be managed via App or software. In these new settings, every space can become an office, and every office can be your own office.
Tecno WE partition
A project developed by the Centro Progetti Tecno in collaboration with Elliot Engineering & Consulting, WE is a single panepartition wall designed according to the principles of extreme simplicity of management,rapid assembly and minimal components.
The patent pending"Cric" is the technological core of the product that allows precision mechanical adjustment, able to compensate an adjustment range from floor to ceiling up to+/- 23 mm and to perfectly level the glass once installed.
Tecno Linea organizing system – design by Zanon Architetti Associati e Centro Progetti Tecno
A modular, continually reconfigurable micro-architectural system, designed to define and organize spaces.
The construction elements (ball joint, tubular sections, panels) and minimalist, almost archetypal shapes, combine to serve various functions, creating horizontal surfaces such as worktops and seats, vertical surfaces to divide up space, shapes that become containers and supports that can be integrated with lighting systems, fabrics and acoustic panels. The result is a flexible structure that can be customised to suit the layout of spaces and specific usage needs: a simple and functional solution that can characterise countless interior design projects, from places of work and rooms in the home, to educational spaces. Linea offers a custom system to accommodate a wide variety of materials and finishes. The structures can be integrated with accessories including cupboards, drawers, shelves, blackboards and seats, and can be equipped with IoT technology.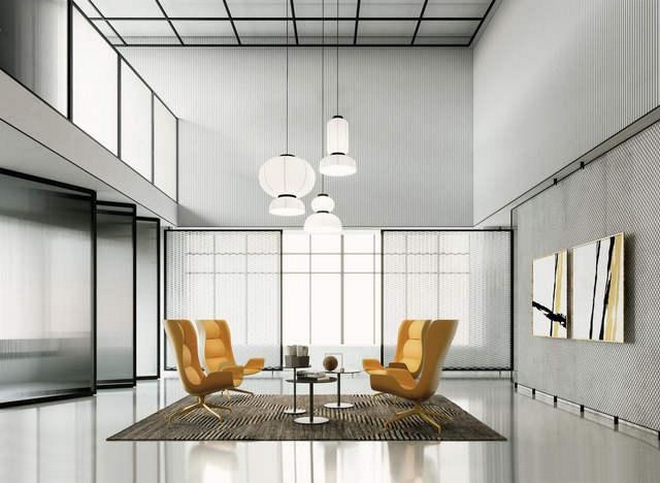 Tecno Aura Chair – design by Rainlight e Centro Progetti Tecno
Aura is a chair that favours thinking and meditation. In a modern-day society that is constantly connected and geared to sharing, the enveloping shape of the shell helps to create a private space, favouring a feeling of privacy and aiding concentration in co-working spaces, lounges, open-plan offices and home offices, as well as in community and public places. The armchair, with painted die-cast aluminium base, comprises a mono-satin methacrylate monocoque top section, available in the dedicated colour palette or in any colour on request. The large cushion within the seat back,
structured in zones with differentiated bearing capacity, was developed to ensure the maintenance of optimum user ergonomics, for maximum comfort. The design expresses Tecno's hallmark technical elegance and technologically advanced content through the choice of materials and manufacturing processes.
Over six decades Tecno created elegant and comfortable environments for Grand Louvre, BMW, or Bulgari. Just some of the special projects in which the company has been involved are the European Parliament in Brussels, Schiphol Airport in Amsterdam, the British Museum in London, the Palais de Justice in Paris and offices such as the premises of Bulgari, Moleskine and the National Bank of Kuwait.
Todo Modo design by Jean-Michel Wilmotte
Todo Modo is a tecno modular sofa system with a fully reversible mobile backrest. Re-edition of a 1993 project originally conceived for the Louvre – to offer seating designed to allow the viewing of artworks on every side –, Todo Modo now finds its place in waiting rooms, reception areas, offices and co-working environments.