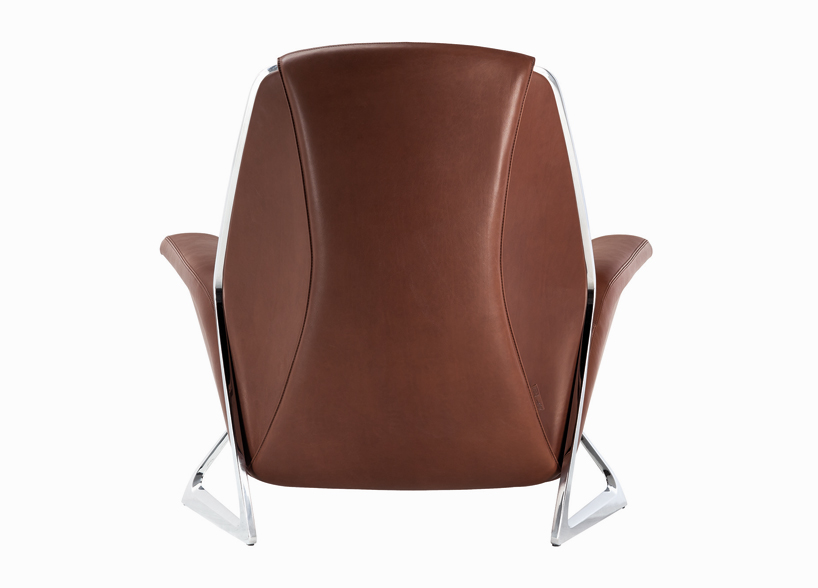 Walter de Silva, Head of Volkswagen Group Design, has joined forces with the Audi Concept Design Studio in Munich to create an armchair called "Luft" – the German word for "air," produces in partnership with Italian luxury furniture maker Poltrona Frau. A curved aluminum element – symbolizing Audi lightweight construction – lends the armchair its weightless appearance.
"The unique thing about this project is the fusion of Poltrona Frau's invaluable handcrafting expertise with the research, the experimental approach and the conceptual methods of Audi design," explained Walter de Silva speaking about the partnership. His goal was to achieve the perfect balance between craftsmanship and high-tech.
The concept behind the armchair was to create a place to unwind. "In the picture of a chair, I see order and discipline – an armchair, on the other hand, suggests precisely the relaxation that I'm longing for at the end of a long day of work," he commented on the design. The designers kept this approach in mind when selecting the materials and when crafting the chair's thoroughly functional design.
An aluminum element traces the contour of the chair from its backrest to its feet while also serving as the chair's base. Thanks to its elegant shape and the lightweight material, the seating area appears to float in the air. The armrests, together with the seating area, form a curved line that recalls the extended wings of a bird. The covering is made from exceptionally soft, premium-quality Pelle Frau leather.
"The chair finds its balance in the contrast between the cool, technical feeling of the aluminum and the warm, supple leather," said Simona Falcinella, Head of Design Colour & Trim at AUDI AG.
Production of the designer piece followed two years of research, according to Roberto Archetti, Brand Director of Poltrona Frau.
"The development of 'Luft' with Walter de Silva and the team from Audi design was an exciting challenge and an important, enriching experience for us," said Archetti.