A one-off Maserati-branded Bond was auctioned for Action Medical Research.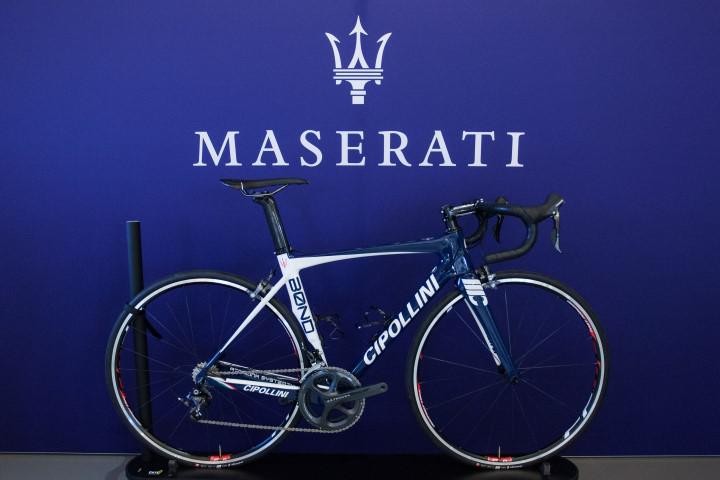 A new design partnership pairs two iconic Italian brands with speed and style at their heart. To celebrate its collaboration with the inaugural Rouleur Classic event, luxury car maker Maserati has teamed up with Italian high-performance bike brand, Cipollini to create a one-of-a-kind Maserati Cipollini BOND road bike. The Cipollini BOND frame is painted in Maserati blue and white and features Rouleur Classic and Maserati branding, including the Maserati trident in red on either side of the seat tube.
Cipollini Bond, the first "not integrated monocoque" made by Cipollini, has a revolutionary patented construction system with front monocoque triangle + rear axle fitting called Atomlink. It allows great reactivity and power transfer to the ground, comparable to the best monocoques. Comfortable despite being aggressive and rigid, it is precise and elastic when descending. Aesthetically elegant, it also stands out in terms of sturdiness and great resistance to stresses. The frame is unbeatable in its segment.
The stunning bike, which was signed at the show by Mario Cipollini, was centrepiece of the Maserati Lounge, where visitors were invited to join a silent auction to win the bike and raise money for Action Medical Research.
"To pair two such like-minded Italian brands was an opportunity not to miss, and the Rouleur Classic is the perfect place to show the bike and hopefully raise a lot of money for charity. The lucky winner will be the owner of a truly unique bike," commented Mario Cipollini, owner of Cipollini bikes.
'When we started our Maserati Cycling initiative it was with the aim of enhancing the experience of the cycling community through our brand's involvement in a series of unique and exciting cycling events. The vision behind the Rouleur Classic is absolutely complementary to what we are looking to achieve, and the show promises to become a must-attend destination for the discerning road cyclist," said Peter Denton, Region Manager for Maserati Northern Europe.
'We hope our partnership with Cipollini will add another interesting element to the event. To be able to produce a truly one-of-a-kind Maserati Cipollini road bike which will allow us to raise money for a great charity like Action Medical Research is fantastic. The bike is a beautiful piece of design and represents perfectly the style, tradition and quality that Maserati stands for," added Denton.
The technical specification of the bike, with a RRP of £4500, comprises an Ultegra mechanical groupset, Selle San Marco Aspide racing saddle and a Fast Forward F2A alloy clincher wheelset.
The inaugural Rouleur Classic event took place 19 – 21 November 2015 at Vinopolis, London, offering visitors the very best in road cycling.