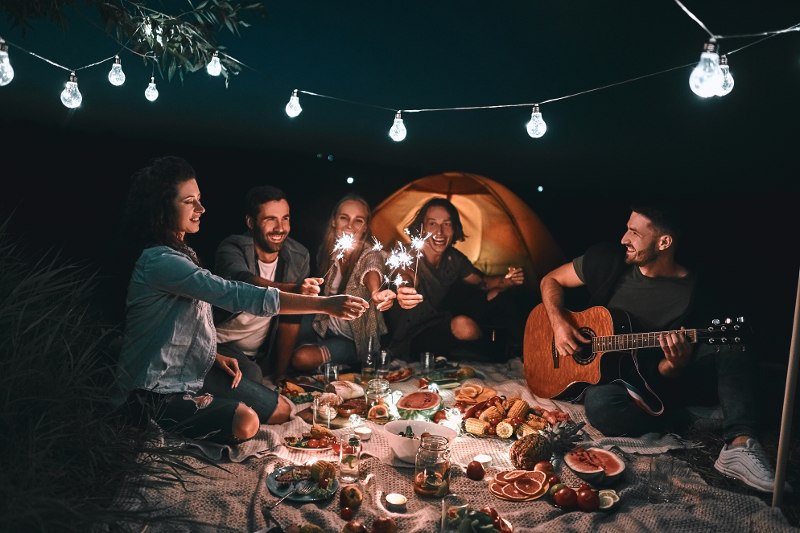 In recent years, the term 'glamping' has been coined to refer to a luxurious way of camping. This getaway trip is designed for the traveler to enjoy the outdoors while having the amenities typically found in high-end resorts and hotels. Because of its appeal, many resorts and campsites started to subscribe to this new way of luxury outdoor travel. Thus, more and more glamping sites have become available, each offering a unique experience for guests. 
If you'd like to give glamping a try using your own resources and at an outdoor spot that you love, here are some ways you can give yourself a luxurious getaway experience: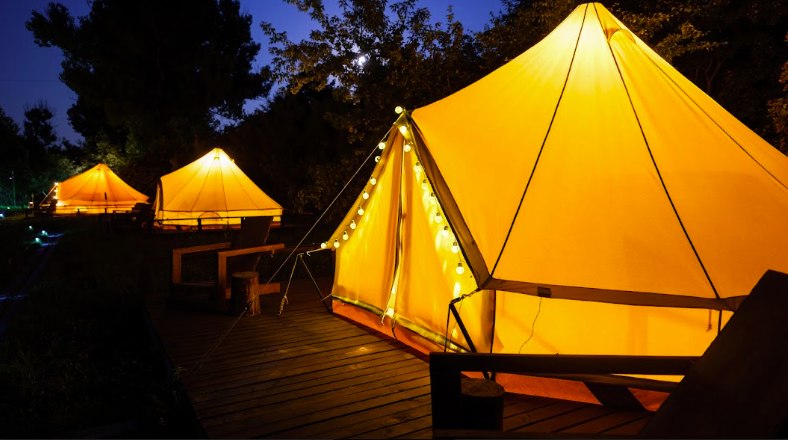 To make your outdoor accommodation more luxurious, you'll need to pitch a spacious tent with enough room for comfortable bedding and décor. Then, you can consider the following decorative items to beautify its interior: 
You can use fairy lights and other portable lighting materials. You can also use multicolored lights to brighten your space and add an exciting vibe.  
Place a carpet in the center of the tent. In choosing a carpet or rug, pick one that's extra soft to the touch for added comfort and luxury. Also, you can select contrasting colors to liven up the interior or neutrals if you want a more relaxing atmosphere.  
You can emulate the luxury hotel vibe further by using a mini-scent diffuser. It will add to the relaxing vibe of your tent and improve the air quality as well.  
Depending on where you camp, you can also put on relaxing jazz music reminiscent of high-end spas and boutique hotels. The music will help make the tent feel cozier as well.  
You can also consider investing in a high-quality yurt as an alternative to tents. Luxury yurts for high-end glamping have recently become popular because of their beautiful design based on the Mongolian ger. This item will surely be an eye-catching addition to your outdoor setup and can make it easier for you to prepare for glamping trips anytime.  
Sleeping outdoors may not always be comfortable because of the limited bedding options. However, glamping allows you to splurge on your bedding using soft, thick, and smooth sleeping materials that can give you a luxury vibe. 
Here are some bedding provisions that you can consider adding to your glamping list: 
Air mattress or a portable thick floor mattress 
Duvet 
Topper 
Pillows 
Cushions 
You can also play around with colors and textures to create the vibe you want. For instance, you can choose a monochromatic velvet theme for a cozy feel. If you wish for a summer-themed bed, on the other hand, you can select natural bright colors or fun prints.  
 Set Up A Glam Dining Table 
You don't need heavy or expensive dining furniture to create a posh dining experience outdoors. To make your glam dining table, you can use a portable chair and table set and dress it up using a beautiful table cloth, flowers in a glass jar as a centerpiece, and some candles.
You can also use clear jars and liquor glasses for beverages, ceramic plates, and metal utensils. As finishing touches, you can also add colorful coasters and folded table napkins to complete the setup.  
Alternatively, you can also layout a soft rug or carpet and have a picnic dining setup. You can use the same décor, such as a centerpiece, candles for lighting, or flowers. Then, you can add furnishings that boost comfort, such as blankets and cushions to add to the glam vibe.  
To finish your glamping setup, you'll need to create a luxury lounge area where you can spend leisure time chatting with your friends, listening to music, or watching the night sky.  
Here are some ideas you can consider for your glamping lounge area: 
Set up a hammock 
Place a portable firepit in a suitable location 
Add a mini table for décor and lighting 
Layout furnishings such as a carpet, blankets, round cushion chairs, and throw pillows 
You can also set up fairy lights around your lounge area for added illumination and visual appeal if resources are available.   
Conclusion 
Using your regular camping gear and some household items, you can create a unique outdoor experience anywhere and anytime. The concept of glamping revolves around the feeling of luxury and comfort, and you can apply it on your next camping trip based on your resources, needs, and preferences. Feel free to use what you already have or pick out fresh flowers and fruits as ornaments to create a more cost-effective glamping setup.