Bergen County NJ-2013 NESPA Best Pool Design & Installation Award.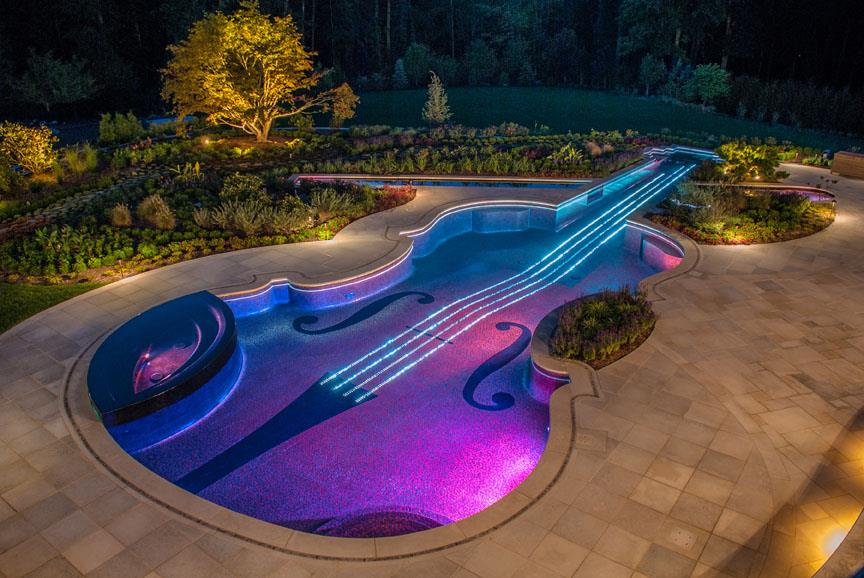 The Northeast Spa and Pool Association, known throughout the U.S. pool industry as "NESPA", bestowed several coveted awards to a select group of exclusive in-ground pool builders, who exhibited prodigious skill in the design and installation of luxury swimming pools and associated amenities. Among the 2013 award winners, Cipriano Landscape Design was presented with the prestigious Gold "Exceptional Recognition for Design & Build- Concrete" to honor its architectural ingenuity and implementation of the violin pool, in Bedford, NY. This extraordinary swimming pool design is an exact replica of a 1700's era Stradivarius violin, and includes pertinent details such as tuning pegs, upper and lower bouts, F-holes, purflings, and strings.

This Bedford, NY, violin pool, is outfitted in unique iridescent glass tiles, which number nearly half a million pieces. The color of the
gradient translucent glass tiles transition on the floor of the pool in every direction in order to give the pool extraordinary depth, and to
simulate the crown of the violin. In order to accomplish this, the Cipriano design team plotted each sheet of tile on the pool floor, which
enabled the color flow in all four directions to blend seamlessly into the wall color. Further, where the chinrest on a conventional violin
would lie, the pool houses a perimeter overflow spa, which is finished entirely in jet-black glass tiles. At "the neck" of the violin, the
pool is intersected by transparent acrylic panels on both sides, which enables the swimmers to have full few of the fish filled koi ponds
that surround it.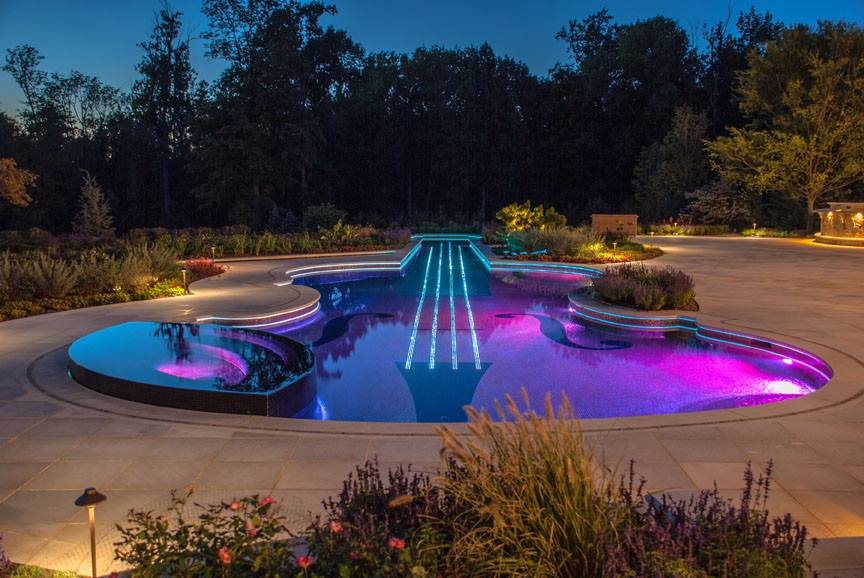 The violin pool is further inundated with cutting edge technological advances. The violin "strings" are embedded within the gradient glass tile blend on the pool floor, and have 5760 strands of fiber optics woven seamlessly through the glass tile that are subsequently wired to 40 illuminators. "Every aspect of this pool was challenging," says Chris Cipriano, President of Cipriano Landscape Design. "Weaving the fiber optic strands into the glass tile pattern was extremely technical and had not been attempted previously in the pool industry."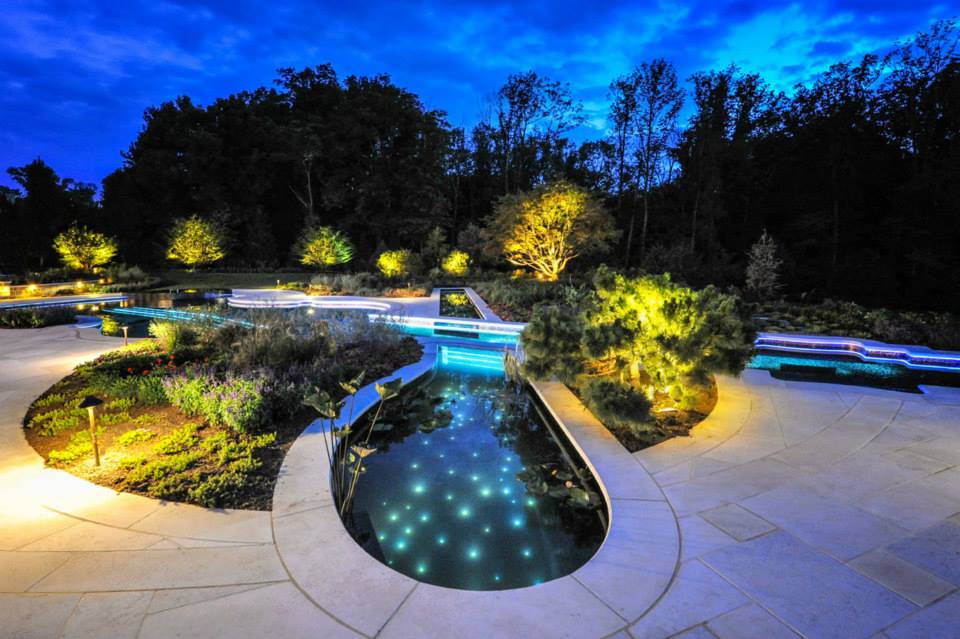 Additionally, the lights are synchronized via a computer controller to an underwater audio system, and will thus calibrate perfectly with any music being played. The pool was also outfitted with a Riverflow Jet System, which creates a 2000-gallon per minute current that allows the pool occupants to swim, or kayak against. The pool is also equipped with various other luxurious options, such as a 1,000,000 BTU heater for year round usage, a fiber optic side glow cable, an electric heat pump, and the ability for the homeowner to monitor/adjust flow rates and water chemistry via an iPhone.
This exclusive pool also won NESPA's Gold award for "Glass Tiled Pools", the "Peoples Choice Award", and "Best in Competition" due to its daring designs and its complex assembly.