109m Bravo superyacht – a prime example of Oceanco's new wave of forward-thinking yachts
Oceanco's 109m/357ft Project Bravo Breaks New Ground. With her naval architecture by Lateral Naval Architects, exterior design and layout by Nuvolari Lenard and interior by Reymond Langton Design, Bravo is unlike any preceding Oceanco yachts.
Oceanco's 109m/357ft Bravo superyacht pushes the limits within the world of superyachts to a new level. Launched on 17 November 2018, Bravo is the first Oceanco yacht to utilize its innovative LIFE (Lengthened, Innovative, Fuel-efficient, Eco-friendly) design. As Oceanco describes it, LIFE revolves around intelligent naval architecture that leverages a number of
fundamental principles, which create a harmonious balance between weight, power, technical areas and luxury interior on
board.
After the innovations introduced with "Alfa Nero" superyacht, Oceanco asked Nuvolari-Lenard to "raise the bar" and create another remarkable and revolutionary design.
"The LIFE design's use of advanced hybrid propulsion incorporating significant battery capability, combined with a single tier engine room allows novel use of space to deliver areas of outstanding luxury accommodation," said James Roy, director of Lateral Naval Architects. Bravo embodies Oceanco's expertise in building large complex yachts, whereby project management proficiency played anintegral part in Bravo's success.
"A bespoke project of such magnitude and splendor will always present interesting challenges and opportunities" said owner's representative, Burgess. "With Project Bravo we created a truly spectacular yacht whose excellence is a clear reflection of the commitment of a dynamic and professional project team."
"Our approach with Bravo was to maintain a stunningly sleek profile without sacrificing any interior space. This new exterior style concept is bound to create a new design stream. It is important to us that we started this new stream together with Oceanco," said Dan Lenard, senior partner of Nuvolari-Lenard.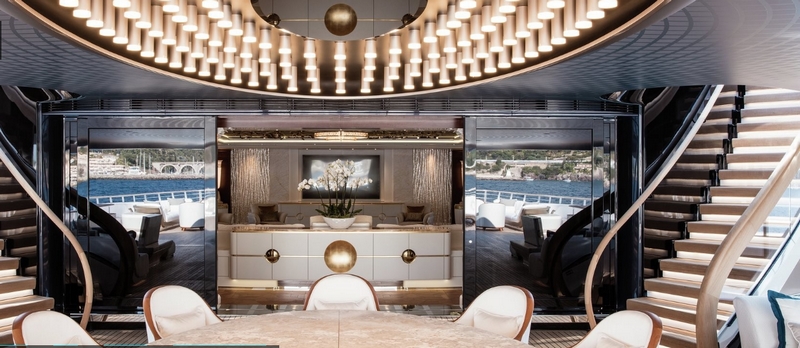 Oceanco's Jubilee wins Top Honors at the 2018 International Superyacht Society Awards.
In the first week of November, Oceanco's 110-meter Jubilee won two top design awards at the 29th International Superyacht Society (ISS) Gala during the 2018 Fort Lauderdale International Boat Show— the yacht featuring exterior styling by Igor Lobanov and interior design by Sorgiovanni Designs, was presented with the award for Best Power Yacht 65m + as well as Best PYC
yacht of 2018.'
Oceanco's 90M DAR Won Both Best Exterior Design and Finest New Superyacht Award
At the end of September, Oceanco announced that the 90m DAR, its latest delivery, has won both the 2018 Monaco Yacht Show Best Exterior Design and the Finest New Superyacht Award. The Monaco Yacht Show is the premier Superyacht Show in the world. Every year over 120 superyachts are on display, 40 of which are new launches or worldwide debut yachts.
DAR superyacht has a modern revolutionary exterior styling by DeBasto Design and sophisticated interior design by Nuvolari Lenard. Her groundbreaking design and technological advances bear the unmistakable DNA of an Oceanco: she reflects the latest advances in glass technology and is the first yacht in the Netherlands to be given the official Lloyd's Register Integrated Bridge System (IBS) notation and designation.