Who eats the most chocolate? Top chocolate-consuming countries.
Which nations had the highest chocolate consumption per capita in 2012? Using data provided by Leatherhead Food Research, Confectionerynews publication have mapped the top 20 countries who ate the most chocolate last year. Switzerland population is the biggest fan of chocolate. Each Swiss person ate an average of 11.9 kg per capita in 2012. A regular chocolate bar is around 40-45 g, which means that each person consumed almost 240 bars over the course of the year. Ireland was the next biggest consumer with an average consumption of 9.9 kg per person.
The only developing BRIC market in the top 20 is Russia, but it eats its fair share and on 5.9 kg per capita, the Russians ate more chocolate than the average American (5.5 kg) last year.
The most populace nation to feature in the top 20 was the US followed by Russia, Germany and France. Most developing BRIC markets have lower consumption levels than countries in Western Europe and North America.
On the opposite side is the population of India and China. These countries may only consume 1.2 kg and 700 g per of chocolate person each year currently, but as both nations' gross domestic profit (GDP) continues to grow, consumer incomes rise and create huge prospects for chocolate companies.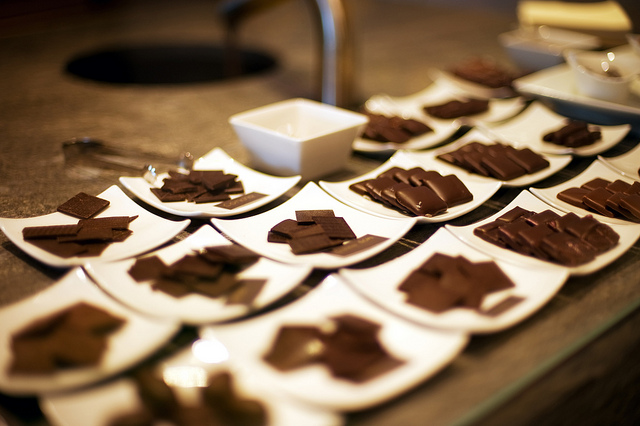 Top chocolate-consuming countries by confectionerynews:
1. Switzerland 11.9 7.9 659.3
2. Ireland 9.9 4.6 217.3
3. UK 9.5 62.7 2,445
4. Austria 8.8 8.4 417.7
5. Belgium 8.3 11 513.7
6. Germany 8.2 81.8 3,601
7. Norway 8 4.9 485.8
8. Denmark 7.5 5.6 333.6
9. Canada 6.4 34.5 1,736
10. France 6.3 65.4 2,773
11. Poland 6.1 38.5 514.5
12. Russia 5.9 143 1,858
13. Australia 5.9 22.32 1,379
14. Sweden 5.7 9.4 539.7
15. US 5.5 313.9 14,990
16. Netherlands 5.4 16.7 836.1
17. Finland 5 5.4 263
18. Czech Republic 4.9 10.5 217
19. New Zealand 4.8 4.4 159.7
20. Ukraine 4.2 45.7 165.2