SAGE The Barista Express Coffee Machine
Sage brings professional-grade coffee to the home kitchen with the Barista Express Coffee Machine. Extracting the full flavour of whole coffee beans by grinding them directly into the filter, the process, from bean to coffee, takes less than a minute.
Equipped with a Thermacoil heating system and powerful 15 bar pressure system, the machine offers espresso in both single and double shots, and the option to make two cups of coffee at once, while a high power milk frothing arm means you can enjoy a latte, cappuccino or flat white in the comfort of your own home.
DR. VRANJES FIRENZE Melograno Candle (500g)
For a candle that purifies the air and calms your mood, look to Dr. Vranjes' Melograno candle. Evoking a sense of calming warmth throughout your home, the candle imparts a zesty essence of watermelon, jasmine and red grape. Best when smelt upon entering your space, place it in the hallway to benefit from its comforting qualities as soon as you get home.
BOUCHERON Small Mixed Gold Quatre Red Ring
Influenced by classic architecture – a passion of Fréderic Boucheron – Boucheron's Quatre line is the beating heart of the Maison's jewellery, with the Radiant sub-collection proving to be the most visually arresting of all, with graphic cuts and contemporary lines expertly manipulating the light. This ring plays with the literal meaning of the range's naming, crafted from four eye-catching materials – a trio of golds and crimson-hued ceramic – while a row of dazzling white diamonds delivers the label's penchant for quiet excess.
LALIQUE Peonies Vase (14cm)
Sculptural construction meets sweeping floral design with this Lalique vase. Renowned for its artistry and favouring crystal as its canvas, the label seeks to diffuse a romantic ambiance into your interior with this ornate design through its intricate depiction of poetic peonies.
This innovative machine is the brand's first coffee maker; it's conceptualised by German industrial designer Richard Sapper, a widely renowned name known forhis fusion of simple form and technical advancement, putting your morning brew in safe hands while you read the headlines.
BACCARAT Large Eye Rectangular Red Vase (30 cm)
Baccarat's illustrious history crafting exquisite glassware informs the design of the Eye Large Rectangular Vase. Crafted in a wave-like pattern from the finest crystal, the dazzling refracting light will add an opulent finishing touch to any desk, shelf or table.
CHOPARD Rose Gold and Diamond Happy Hearts Bangle
Few motifs boast the evocative power of the heart. Ever unable to resist a design with deeper meaning, Chopard calls upon the shape as the foundation of its Happy Hearts collection, employing the universal symbol of intimacy, affection and generosity to echo its own values. Wear this 18-karat rose gold bangle to pledge your allegiance to the heart and House – it sees the motif repeated twice, the larger rendered in red stone and the smaller cradling a twinkling moving diamond.
ANISSA KERMICHE Love Handles Vase (31cm)
Anissa Kermiche's eye-catching earthenware creations are a modern staple in the homes of the fashion-forward, thanks to their tongue-in-cheek names and curvaceous silhouettes that celebrate the female figure. The Love Handles vase is a cult classic; with its two handles placed on rounded hips, it makes a perfect vessel for bunches of colourful blooms.
DE BEERS JEWELLERS Rose Gold and Diamond My First De Beers Pendant
The world of De Beers Jewellers diamonds is an enthralling one in which exquisite stones create enchanting visions of everything from everlasting love to nature's beauty. The My First De Beers collection offers a refined introduction, with all the grace and statement-making elegance of the House's distinctive designs condensed into a petite yet no less beguiling iteration – in this instance, a pendant rendered in 18-karat rose gold with diamonds selected by hand for their unparalleled brilliance.
Wedgwood has been home to the very best fine bone china since its founding in Stoke-on-Trent in 1759. Honouring the quintessentially English tradition of afternoon tea, this three-piece set allows you to enjoy a cup or two from home, forming part of the Hummingbird collection that sees a teapot, cream jug and sugar box all cast in an exotic design – take a closer look and you'll spot the tropical bird among the oversized blooms.
PRADA Porcelain Vienna Coffee Cup and Saucer (Set of 4)
Prada's Vienna collection is more than just a way to elevate your tableware; it's a treasurable ode to graphic decor of the early 20th century, hosting a very Prada-esque rendition of Backhausen's Streber pattern, which was first introduced by Josef Hoffmann in 1904. Take a moment to admire the beauty of each coffee cup and saucer within this set – every piece features black edging for a finish that's iconic to the Milanese fashion house.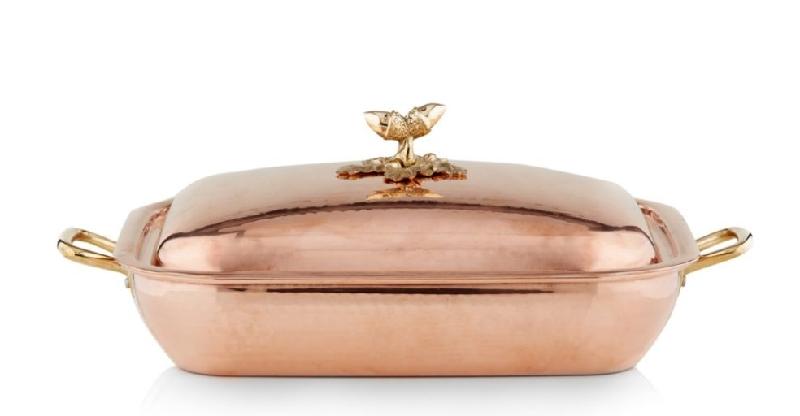 RUFFONI Historia Oval Casserole (38cm)
Beautifully handcrafted in solid copper, Ruffoni's Historia collection is as covetable at the centre of the table as it is in the kitchen. This large oval casserole, traditionally finished with polished brass handles, is ideal for feeding a large family with roasted vegetables or French-inspired gratin dishes.
LSA INTERNATIONAL Cask Whisky Glasses and Decanter Set
Evocative of LSA International's artisanal designs, this contemporary whisky set includes an oblong mouth-blown glass decanter and two tumblers. Each glass sees a cube-shaped impression in the weighted base, reminiscent of an ice cube, to complement the decanter's bold geometric silhouette. Add them to your bar cart or keep safe in an office drawer for impromptu tipples.
PRADA Large Glass Zigrinato Spiral Bottle (1.7L)
Prada's eye for modern, sculptural forms doesn't just transpire on the runway; the Zigrinato Spiral bottle sees this same level of craftsmanship and artistic expression in every softly rippled curve. When considering its placement, take a leaf out of the Milanese label's book and think outside the box – fill it with water and place it at the centre of the dinner table or, even better, complement its flowing lines with a bouquet of fresh blooms.