Vinexpo 2012 to determine the wine glass of the future.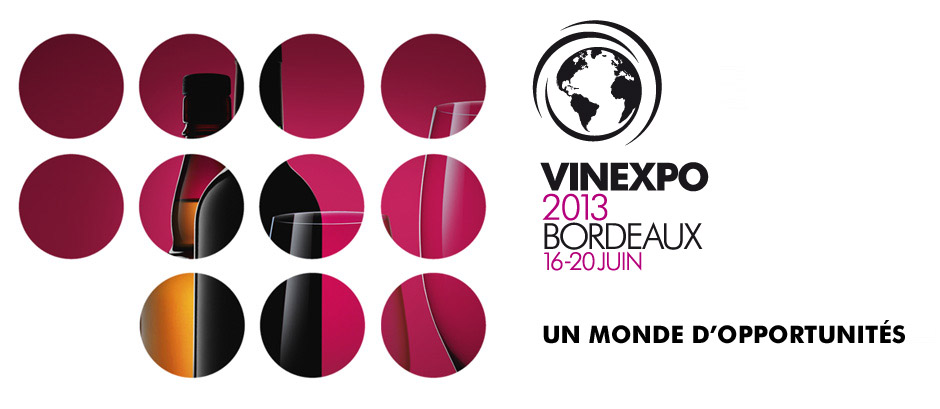 Vinexpo 2013, the key event in the wine and spirits calendar, will open its doors on 16 June to welcome industry professionals. This year Vinexpo became the epicenter of new trends in the spirits market, showcasing tequilas, cognacs and Chine luxury moutaï – best of their country's spirits.
More than 2,400 exhibitors from 45 countries have announced will attend and will all converge on Bordeaux in June.
France, the leading wine producer in the world in 2011, having turned out 523 million 12-bottle cases every year, will occupy 65% of the exhibition's total stand floor area in order to promote the products of its 17 winegrowing regions from Provence to the Loire valley, including Bordeaux, Champagne and Burgundy.
Long-time exhibitors, Italy and Spain, account with France for more than 50% of world wine production. A large number of stands will also display a wide range of spirits, including cognacs, vodkas, rums, whiskies, gins and armagnacs. Saké, cachaça, grappa and tequila will also be on show, indicating the sheer breadth and variety of products present at Vinexpo. For the first time in Bordeaux, a Pro México pavilion will unveil a whole palette of tequila brands.
There were already Chinese exhibitors at Vinexpo in 2011, and they will be back again in 2013. The Sichuan Pavilion will invite visitors to learn more about Chinese spirits such as the wheat- and sorghum-based maotai, which is very popular with Chinese consumers.
Also new, the Turkish Pavilion with "Wines of Turkey" will be highlighting its Turkish wine producers, while Winery Khareba will be presenting local wines from Georgia.
The "Tastings by Vinexpo" events are conceived by Vinexpo exhibitors around common themes to give the opportunity to participants to see, smell, taste and feel products under the guidance of their producers or renowned tasters. Once again this year, international celebrities will be on site to share their knowledge, such as Barbara Tamburini, the famous Italian oenologist, Jeannie Cho Lee, Master of Wine and Asian wine critic, and Danny Brager, an expert in alcoholic beverage consumption trends from the Nielsen group in the US.
Paolo Basso, Best Sommelier in the World in 2013, will speak at a meeting with ASI, the Association de la Sommellerie Internationale on Sunday 16 June.