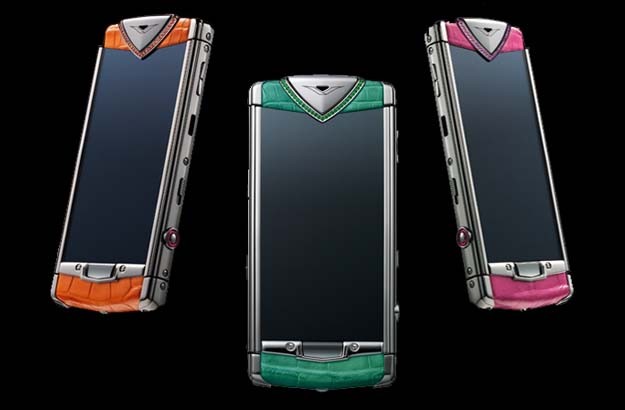 Vertu dresses in mint green, raspberry, and tangerine, a new spring palette for Constellation series named Candy.
Constellation Candy comes with a 3.5" nHD high contrast AMOLED display, protected by Sapphire Crystal, a 8- megapixel camera, Vertu's high fidelity sound system (high-fidelity 11mm x 15mm loudspeaker), exclusive ring tones and alerts played by the London Symphony Orchestra and the Concierge service.
Around the clock, the Vertu owner will receive expert assistance, recommendations and priority bookings. From creating bespoke gifts to accessing money-can't-buy events, experiences and everything in between. The Concierge team will do their utmost to fulfill every request and can be accessed directly from your handset with the touch of a single button.
Vertu Constellation Candy Technology:
Up to 7 hours talk time (GSM)*
Up to 4.5 hours talk time (WCDMA)*
Up to 400/400 (GSM/WCDMA) hours standby time*
Pentaband WCDMA and Quadband GSM coverage worldwide** (WCDMA I/I I/IV/V/VIII, EGSM 900, GSM
850/1800/1900 networks)
8 megapixel camera with EDOF and twin LED Heptagon flash
Bluetooth / Micro USB / WLAN
PC and Mac synchronisation
Accelerometer / MMS/SMS / Multi Language Dictionary
FM Radio
Accurate, dual-time clock with calendar based availability
User memory: Fixed 32GB
Twitter and Facebook applications
Full HTMLWeb browser
Satellite Navigation with pre-installed maps
Quickoffice for viewing and editing Microsoft Word, Excel and PowerPoint files
PDF viewer / Photo viewer with web share
Audio/Video player
Emergency Torchlight
Exclusive services: Vertu Concierge, Vertu Concierge Live, Vertu Club Access, Vertu Select, Vertu City Brief, Vertu.Me.