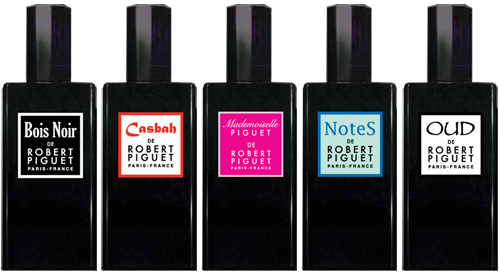 Robert Piguet extended its portofolio of exlcusive fragrances with "Nouvelle Collection de Robert Piguet," created by Master Perfumer Aurelien Guichard of Givaudan Paris. Bois Noir, OUD, Casbah, Notes and Mademoiselle Piguet were officially introduced at Esxence 2012 and will be available for purchase June 1, 2012.
Robert Piguet Bois Noir
With Bois Noir, Robert Piguet introduces an avant-garde woody elixir to its collection. Bois Noir combines iconic Piguet elegance with modern refinement, offering a sophisticated and opulent fragrance for those who are not afraid to make a style statement.
Robert Piguet Casbah
Robert Piguet Parfums invites you for a magic carpet ride to Morocco with Casbah, an evocative and mesmerizing fragrance. Inspired by Marrakech, Casbah blends the warmth of Moroccan spices with the austere elegance of Atlas cedarwood and rounds out the composition with cool iris.
Robert Piguet Mademoiselle
She is delicate and irresistible, innocent and sultry, part Lolita and part Louise Brooks. With Mademoiselle Piguet, Robert Piguet Parfums has chosen to pay tribute to both the romantic and sensual associations of orange blossom. Mademoiselle Piguet is a new generation floral fragrance, but its alluring character makes it a perfect addition to the Piguet family of feminine masterpieces.
Robert Piguet Notes
Notes de Robert Piguet is a tribute to some of the most exquisite materials in the perfumer's palette, a fragrance of exceptional harmony and beauty. The high pitched prelude of bergamot and clary sage sets the stage for the gentle aria of orange flower and geranium. The exhilarating start leads to the sonorous timbre of oakmoss and tonka bean. The dark tones of costus further deepen the composition, while the green clarity of vetiver lends it an elegant counterpoint. Warm and luxurious, Notes de Robert Piguet is a kaleidoscope of sensations.
Robert Piguet OUD
Oud, a rare resin released by Aquilaria tree species, has a fragrance of such haunting beauty that it has inspired many legends and stories. Robert Piguet Parfums creates its own fairytale by weaving an opulent tapestry of oud and precious aromatics. Hot like desert winds and smooth like heavy silk, Oud de Robert Piguet is a glimpse into another world and an invitation to partake in a beautiful fantasy.