For URWERK's designer and co-founder, Martin Frei, a wristwatch is an object that invites interaction, appealing to your visual as well as to your tactile senses. You don't just wear your UR-T8, you engage with it. Let's dive into the UR-T8 amazing mechanism.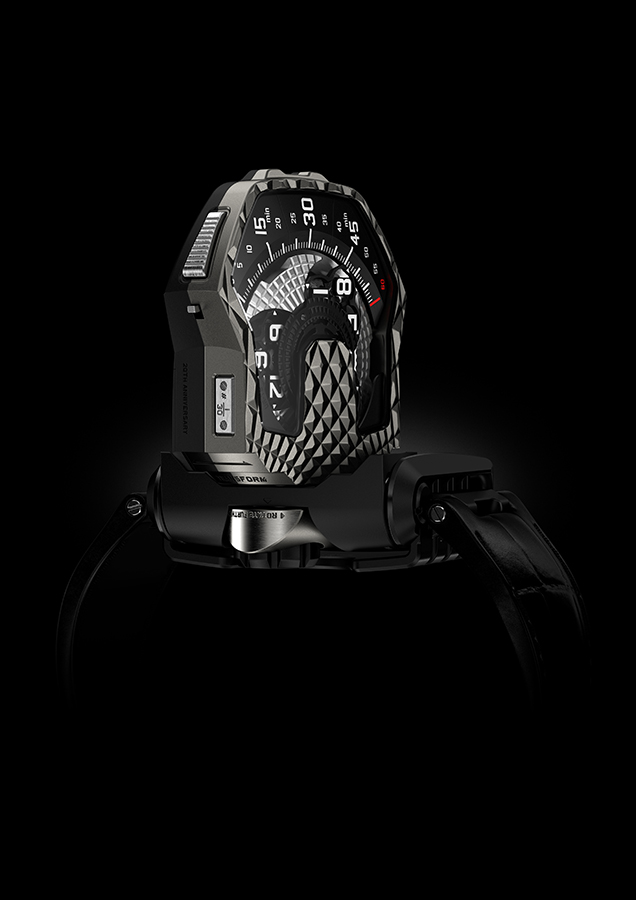 Urwerk's 20th anniversary celebration keeps going on and on all along 2017. Urwerk celebrates two decades with Urwerk UR-T8 Transformer, the haute horlogerie watch launched at SIHH 2017 in a limited edition of 30 pieces in natural titanium and 30 pieces in two-tone black PVD.
The UR-T8 timepiece is URWERK's first transformable watch. A series of precise actions unlocks the case from its cradle, flips it over and returns it with a satisfying click to protect the time beneath a titanium shield.
It then becomes a mystery object on your wrist. From its shape and its intriguing, highly textured pattern, it is impossible to guess that it is, or even could be, a wristwatch.Squeeze again the two buttons on the side of the case to release it, lift it vertically, rotate it 180° about its axis and click it back into its cradle to return to the present time.
"Our UR-T8 of course recalls the Reverso watches, we have deconstructed the concept to create a genuine URWERK model. The UR-T8 features all the characteristics that we have made our own: the huge crown, the organically shaped sapphire-crystal glass, the textured case that invites your touch, a strong personality and a recognisable visual signature," said URWERK's designer.
There you discover a new version of URWERK's trademark wandering-hour indication — the most intuitive way of telling the time. The 12 hours in groups of four on a three-armed carousel successively sweep across the scale of 60 minutes to show the time both digitally and analogically. It is the biggest and most elaborate carousel configuration yet applied by URWERK, with each arm supporting a satellite carousel bearing the four hour numerals. A complex planetary gearing transforms a tangle of wheels, screws and jewel bearings into a meticulously orchestrated ballet.
Another technical feature unique to URWERK is the pneumatic control of the selfwinding system. A gilded spinning vane connected to the winding rotor absorbs any sudden and violent movements of the rotor without compromising its winding efficiency.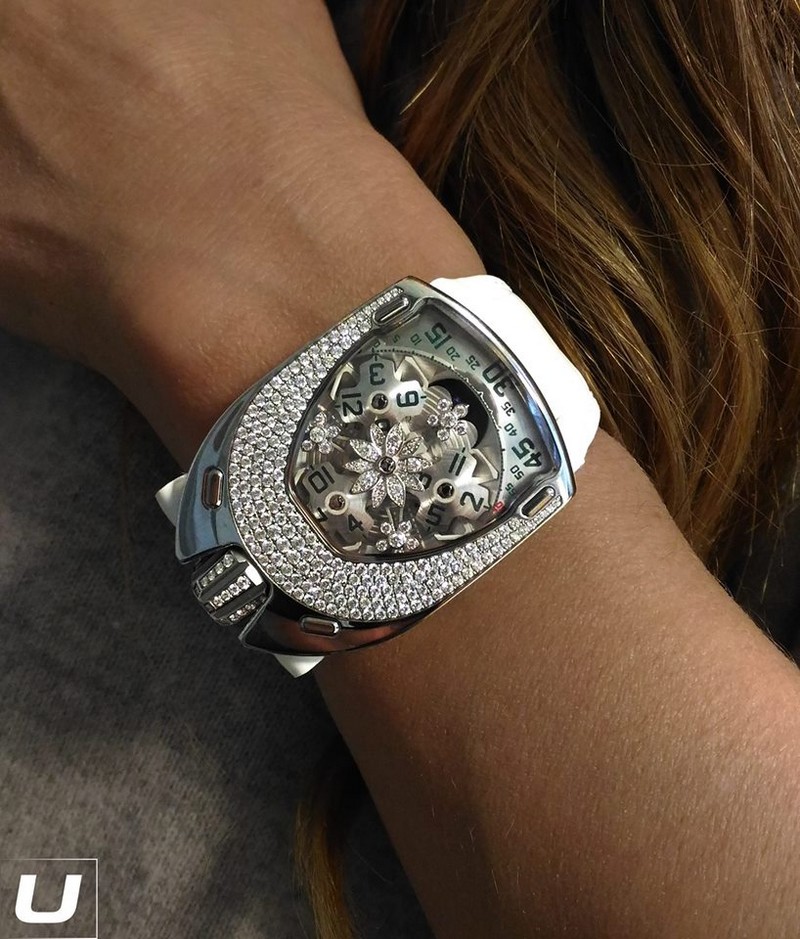 Urwerk also presented the 2016 UR-106 Flower Power limited edition of 11 pieces. An example of poetic mechanical jewellery, 2016 UR-106 Flower Power is a happy marriage between steel and diamond, technique and gentleness, manual dexterity and mechanical precision.
The UR-106 Flower Power casing houses no fewer than 239 Top Wesselton quality diamonds making a total of 2.53 carats. Its execution was supervised by the house of Magnin located in Geneva, who have specialised in watchmaking assembly since 1959.
"One of the biggest problems in mounting arises from the complexity of the casing. We began with a single block of steel, a metal that is exceptionally hard and difficult to work with. We had to pave the perimeter of the glass, a rounded, convex curve, and its outer frieze. We then sourced, cut and ordered the appropriate stones for a paving in a crescendo fashion, as in a mandala," explained Patrick Magnin, the CEO.
Added to this decorative work on the casing is the beautiful workmanship carried out on the UR-106 Flower Power carousel itself. Martin Frei, co-founder of the URWERK house and chief designer, says: "Ever since the launch of the 106 line in 2015, I have been dreaming of its different variations. Playing with diamonds and light is one of my greatest pleasures. We worked extensively with our engineer on the sketches of the flowers in this piece. We ran various tests on wax models before finally achieving the desired result. Each flower was then cast in white gold before being set and mounted on the carousel."