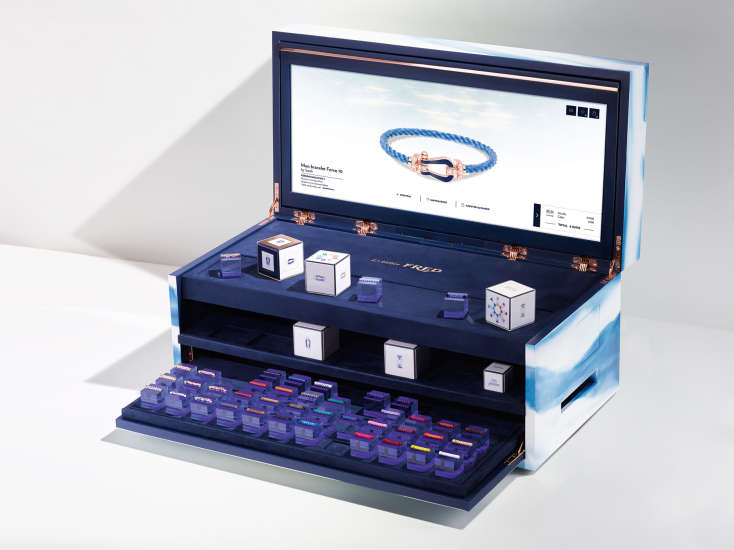 LVMH-owned Fred Jeweller, the French jewellery brand named after the founder Fred Samuel, launches playful customization service for its iconic Force 10 bracelet. With a choice of materials, colors and other elements, more than 100,000 different permutations are possible through the newly-launched L'Atelier Fred.
This new jewelry customization service, available exclusively at Fred's flagship store at 14, rue de la Paix in Paris, is a combinations of digital innovation and an exceptional jewelry expertise.
"Founded in 1936, Maison Fred has always stood out for its audacious creativity and contemporary vision of jewelry. Now Fred is taking this philosophy a step further for a truly unique customer experience," says Fred about its forward-looking L'Atelier concept.
The playful customization service is designed as a building game where customers give free rein to their imagination and desires to create jewelry that is perfectly matched to them. The L'Atelier Fred concept breaks new ground in luxury and retailing, bringing Fred even closer to its customers as they craft their own personal bracelet, assisted by a specialized advisor.
L'Atelier Fred is a case with a screen and a table where specialized advisors sit with customers to design completely personalized versions of the bracelet, step by step. Each choice is symbolized by a block that is set on the table. An image of the bracelet gradually appears on the screen as the material, color and other elements are selected. In all there are over 100,000 possible permutations. What's more, the L'Atelier Fred smartphone app lets customers capture the color of a favorite object or photo and use it for the bracelet. And an engraving service offers an elegant finishing touch to sign the creation.
Currently available exclusively at the Fred flagship store in Paris, L'Atelier Fred will be introduced in other Fred stores, notably in Hong Kong, Japan and South Korea.