Iris Apfel x Le Bon Marché Rive Gauche Paris.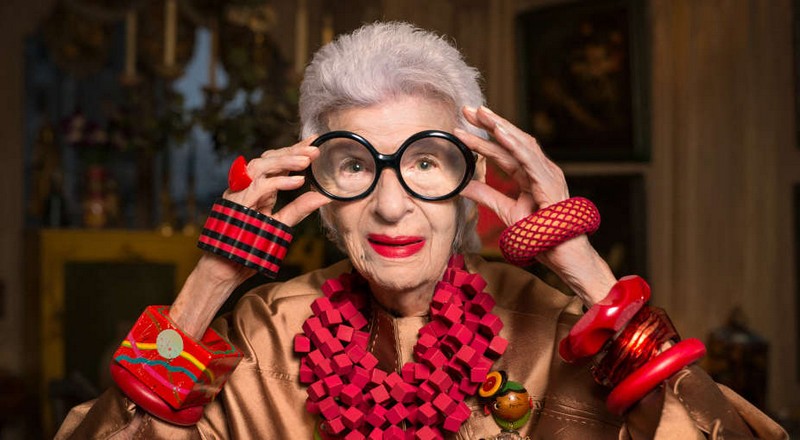 The legendary style-setter Iris Apfel unveiled her latest exhibition and capsule collection at Le Bon Marché Rive Gauche in Paris. The 94-year-old American style icon is the star of the exhibition titled "Iris in Paris", a tribute to the City of Light in her inimitable style.
At 94, Iris Apfel continues to surprise and delight with her creativity and striking eccentricity. The renowned interior designer, who contributed to White House restoration projects for nine presidents, is a fashion icon in her own right, known for her uniquely eclectic collection of clothes and jewelry. During her travels she has amassed emblematic pieces reflecting artisanal savoir-faire from across the globe. She has also fashioned an eccentric wardrobe that mixes ethnic and haute couture clothes. The Metropolitan Museum of Art in New York dedicated an exhibition to her in 2005.
For Le Bon Marché, the artist has imagined a perfect day in the French capital, illustrated through an inventive series of set pieces. Ten display-trunks recreate situations that meld typical Paris scenes with Iris Apfel's singular personality. In ten short films she recounts the genesis of each of the looks, which were created for the trunks from her own personal collection.
Apfel's playful spirit has been captured in colorful sketches by Eric Giriat, exhibited in the store's windows and on the first floor. To conclude her ideal day, Iris Apfel has also produced a collection of objects in collaboration with different brands, including Le Bon Marché's own brand. The capsule collection includes a red Mongolian wool bag Apfel designed herself, a scarf with an Eric Giriat drawing of the Eiffel Tower, and Selima Optique sunglasses, a timeless signature of this remarkable grande dame of fashion.