Tuesday February 22, 2022 in Paris, France
The First International Meeting of Perfume Professions
Tous Au Parfum, All Concerned!
"In Ancient Greece, 'Aller Au Parfum' meant getting together (like when in France we say 'Going to the Café'). There they discussed everything and even state affairs. Today, in everyday French language "Tous au Parfum" means "being in the know".
Perfumers, Designers, Brands, Distributors, Producers of Raw Materials, Manufacturers of Packaging, Retail, Trainers, Teachers, Publicists come together to discuss and define the orientations of the perfume and perfume products professions, in response to the challenges of the changed world. With the participation of the best international experts, a day reserved for professionals and the press, in a business location in central Paris.
​Shifting Lines and Building Bridges
Including the sharing of ideas, a forum for discussions, face-to-face meetings, debates of opposing positions, open dialogue, fair information, collaboration, the freedom of creativity is born, innovation and therefore development.
We invite you to participate to one day of full sessions and workshops with more than 30 international personalities invited as speakers and moderators.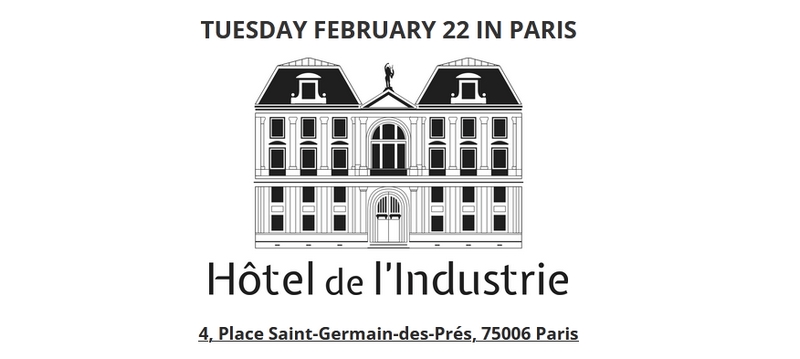 Hôtel de l'Industrie is located in one of the most central areas in Paris, opposite the Abbey of Saint Germain-des-Prés. Since 1852 it has belonged to the Society of Encouragement for the National Industry. This organization, founded in 1801 by the three consuls, Bonaparte, Cambacérès and Lebrun, aims to stimulate industrial development, promote technological innovation and encourage all forms of business.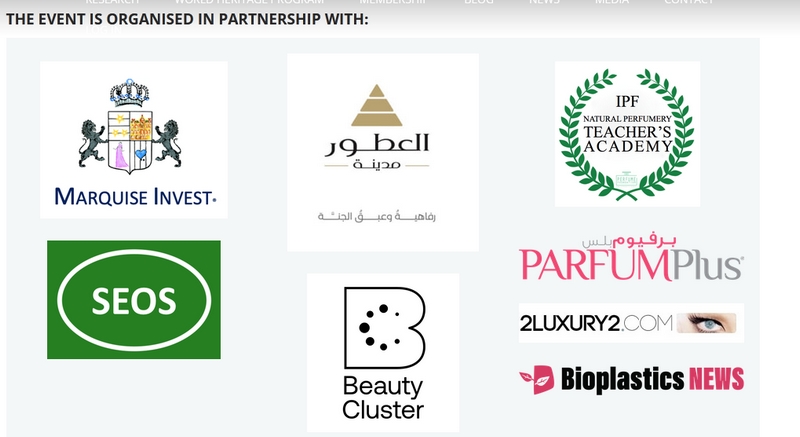 TUESDAY FEBRUARY 22 – 2022 PROGRAM
​Tuesday All Day
EXHIBITION – Salle Chaptel
Packaging Innovation
New Raw Materials
New Luxury Awards Nominates
​
Tuesday Morning
CONFERENCES AND DEBATES – Salle Louis Lumière et Montgolfier
8.30 am – Opening and Welcome Coffee
9.00 am – Welcome Speeches and Homages
9.30 am – What is the Impact of Perfumes and Packaging on the Environment? Which Solutions can we Propose?
10.15 am – Are post-COVID Supply Disruptions Affecting the Industry? If yes, are we ready for relocalization?
11.00 am – Post-COVID is Increasing Demand for Natural, Bio, Organic. Can Natural and Synthetic Co-Exist? What is The Perfumer Place Today? The issue
of the EU Cosmetic Directive and Reach Restricting the Use of Essential Oils in Europe (ex: SOS Lavender)
12.00 am – Oud, an Important Heritage to Protect.
1.00 pm – NETWORKING LUNCH
Tuesday Afternoon
CONFERENCES – Salle des Trois Consuls
New Producer Countries and Impact Investment
3.00 pm – Flowers and Plants: Algeria
3:40 pm – Oud: Cambodia.
WORKSHOPS – Bibliothèque Lasteyrie
3.00 pm – For Designers only: The Creation of a Budget
3.40 pm – New Extraction Methods and New Scents for Perfumer Organ New Producer Countries
DEBATE – Salle des Trois Consuls
4.20 pm – Selective Distribution, Perfume Web-Marketing and Big Data
Tuesday Evening
One evening for networking and socialising during Cocktail and a Gala Dinner and the 3rd edition of the New Luxury Awards.
​5.00 pm – NEW LUXURY AWARDS 2021 Ceremony and INTERNATIONAL PRESS CONFERENCE
Day's Achievements and Important Announcements
7.00 pm – COCKTAIL AND NETWORKING
8.30 pm – GALA DINNER
With LA Laura Paris (street Artist, Song Writer, Singer, Award-winner Film Director and IPF Youth Ambassador), Kippy Marks (musician and entertainer), Catherine Manandaza (opera singer) and many other artists and VIPS.
​For more info, visit www.tousauparfum.com
​Compliance with sanitary rules.