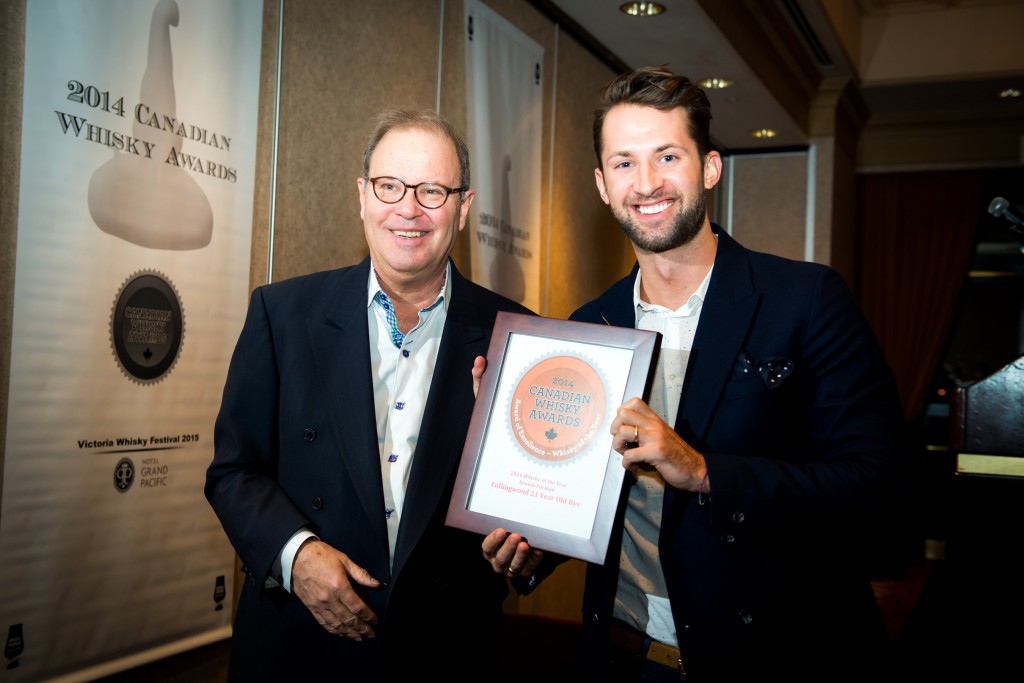 Described as "a Canadian whisky connoisseur's dream come true," Collingwood 21 Year Old Rye is the Canadian Whisky of the Year, a title awarded at the fifth annual Canadian Whisky Awards. The Canadian Whisky Awards recognize the very best Canadian whiskies and encourage distillers to maintain the highest standards for making whisky.
Only fifty barrels of Collingwood 21 Year Old Rye were distilled at the Canadian Mist Distillery in Collingwood, Ontario. This exclusive and rare whisky was distilled more than two decades ago, then tucked away and forgotten. Canadian stocks are almost gone.
Other top winners at the Canadian Whisky Awards 2014 include Forty Creek Double Barrel Reserve, Masterson's 10-Year-Old Rye, Lot No. 40, Canadian Club Chairman's Select 100% Rye, and Crown Royal Monarch. Forty Creek distillery's John Hall received a lifetime achievement award.
"Interest in Canadian whisky continues to grow and Canada's whisky makers have responded with a wealth of new high-end whiskies," said de Kergommeaux as he revealed the winners. "For the first time a major legacy brand, Canadian Club, has released 100% rye grain whisky as a core offering. Canada's best-selling whisky, Crown Royal, became the first major brand to release high-proof single barrel whisky, and Collingwood bottled long-aged rye whisky. Overall, distillers have released more small batch and top-end deluxe whiskies than ever before."
Sales of flavoured whisky also remain strong with Forty Creek, Centennial, and Sortilège making strong gains.

The Winners:
Whisky of the Year: Collingwood 21 Year Old Rye.
Lifetime Achievement Award: John K. Hall. Forty Creek Distillery.
Connoisseur Whisky of the Year Domestic Market: Canadian Club Chairman's Select 100% Rye.
Connoisseur Whisky of the Year Export Market: Masterson's 10-Year-Old Rye batch 5 barrel A2-062.
Connoisseur Whisky of the Year Multi-Markets: Collingwood 21-Year-Old Rye.
Best New Whisky: Stalk & Barrel Rye Whisky;
Sippin' Whisky of the Year Domestic Market: Crown Royal Limited Edition;
Sippin' Whisky of the Year Export Market: J.P. Wiser's Rye;
Sippin' Whisky of the Year Multi-Markets: Royal Canadian Small Batch;
Flavoured Whisky of the Year Domestic Market: Forty Creek Cream;
Flavoured Whisky of the Year Export Market: Peach Mist;
Flavoured Whisky of the Year Multi-Market: Tap 357;
Flavoured Whisky of the Year: Forty Creek Cream.
Value Whisky of the Year Domestic Market: Highwood Canadian Rye Whisky;
Value Whisky of the Year Export Market: Canadian Mist
Value Whisky of the Year Multi-Market: J.P. Wiser's Deluxe.
Award of Excellence Canadian Whisky Profile: Crown Royal Hand Selected Barrel Program;
Award of Excellence Innovation: Masterson's 10-Year-Old Rye Barrel Program;