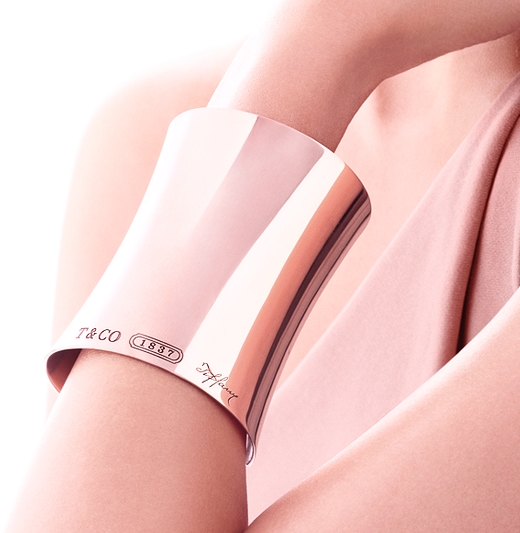 In celebration of its 175th anniversary, American multinational jewelry and silverware brand Tiffany & CO introduces 1837 collection with RUBEDO metal, a new Tiffany metal that captures the rose luminescence of a sunrise. This Limited edition jewelry collection with signature is available only in 2012, in celebration of Tiffany's anniversary year.
RUBEDO metal is the first such creation in Tiffany's history and takes its place among the most beautiful metals in the world. In the medieval philosophy of alchemy, Rubedo was the title of the very highest achievement, when matter and spirit fused to create something of rare beauty.
Metallurgists experimented with different alloys over a long testing period until they achieved the desired color, radiant with the glow of "first light". In addition, this unique alloy is lightweight yet strong, polishes to a smooth luster and is exceptionally flattering to the skin.
The wide cuff, rings in sterling silver and 18k gold, the interlocking circles necklace, the padlock charm and the pendants are inscribed with the signature of Charles Lewis Tiffany, founder of Tiffany & Co.
Founded by Charles Lewis Tiffany and Teddy Young in New York City in 1837, the store initially sold a wide variety of stationery items, and operated as Tiffany, Young and Ellis in lower Manhattan. The name was shortened to Tiffany & Co. in 1853 when Charles Tiffany took control, and the firm's emphasis on luxury jewelry was established.
Athletes, Hollywood stars, and European royalty adored the Tiffany diamonds. Tiffany designs were worn by the Astors, the Vanderbilts, Posts, Huttons and the Morgans famelies.
A Tiffany's gemologist, George Frederick Kunz, was instrumental in the international adoption of the metric carat as a weight standard for gems, and the Tiffany standard for sterling and platinum have been adopted as United States Standards.
In the 1850s Tiffany & Co. established a silver studio, the first American school of design, which produced groundbreaking exhibits that won top awards at the great world's fairs of the late 19th century. At the 1867 Paris fair, Tiffany's lavishly chased silver inlaid with gold, copper and enamel won the grand prize for silver craftsmanship, the first awarded by a foreign jury to an American design house. At the 1878 Paris fair, Tiffany became the first American silversmith to take home the Grand Prize for Excellence, awarded for its ingenious Japanesque silver of inlaid mixed metals and complex alloys of gold, silver, copper, bronze and platinum.