The best hotels all over the world hosted star-studded celebrations aimed at inspiring travelers to return for festive seasons and Christmas markets. Months in the making, the unveiling of Christmas Trees is a capstone moment bringing together famous designers, influential celebrities and design studios.
In need of a holiday respite? The majority of the recently decorated Hotel Christmas Trees are also offering a welcoming fireplace and the perfect nook for some relaxing downtime to relief the Christmas stress. The high-end hotels' gift vouchers make for the perfect gift offering luxurious overnight stays, dining experiences an indulgent spa days. Christmas shopping is an extremely intense experience. A study suggests that Christmas shopping may be more stressful than realised. With a pala casino promo code the present-giving side of Christmas becomes more enjoyable.
St Pancras International x Tiffany & Co Scented Tree
In collaboration with Tiffany & Co, St Pancras International London unveiled its first scented Christmas tree, a 43-foot tree which disperses waves of the Tiffany's fragrance. The magnificent Tiffany tree has over 1,800 decorations and embodies, according to St Pancras International, "the brilliance and modern creativity of the legend that is Tiffany & Co." The floral scent of Tiffany's Signature Eau de Parfum fragrance is diffused from the tree at key intervals each day.
Hotel Café Royal London x Diptyque Christmas Tree sparkles in shades of silver, gold and white.
Hotel Café Royal London in collaboration with French perfumer Diptyque created a scented Christmas Tree decorated with ornaments created by Pierre Marie. For those in search of an indulgent and sensory festive experience, the luxury hotel's signature suite offer in partnership with diptyque includes a host of diptyque gifts. The Green Bar team at Hotel Café Royal have gone full out this festive season with a collection of stunning hot cocktails, while the festive afternoon tea menu includes the cutest little snowball choux buns. Filled with yuzu and mandarin, the delicacies are served daily in the Oscar Wilde Lounge.
86th Rockefeller Center Christmas Tree
The Rockefeller Center Christmas Tree is a world-wide symbol of the holidays in New York City. 2018 Swarovski star, a 9-foot-4-inch topper, backlit by LED, is the new crown jewel for the Rockefeller Center Christmas Tree raising atop the 72-foot-tall Norway spruce on the Plaza. Designed by famed architect Daniel Libeskind, the dazzling 2018 Swarovski Star includes 3 million Swarovski crystals adorned across 70 triangular spikes. The Rockefeller Center Christmas Tree goes well with a walk to make a shopping research at Fifth Avenue Window Displays.
The Met's Christmas Tree
Each year, Met's Gallery 305 displays a 20-foot blue spruce with a majestic Nativity scene at its base, enshrined in an abundant array of lifelike figures with silk-robed angels hovering above. The installation is set in front of the eighteenth-century Spanish choir screen from the Cathedral of Valladolid in the Museum's Medieval Sculpture Hall. Recorded Christmas music adds to the enjoyment of the holiday display.
Gingerbread Tree at Ritz Carlton St.Louis
A towering, five-level Gingerbread Tree now graces the lobby Ritz Carlton St.Louis, showcasing holiday scenes from around the world. Individual gingerbread ornaments may be personalized by hotel guests to support local children's charity. Teddy Bear Tea at Ritz Carlton StLouis will welcome two special mascots, both sharing the name "Bears on Stairs." The hotel lobby is already colorfully bedecked for the holidays, and these two charmers are adding extra warmth to the season.
Claridge's Hotel London
For its annual tradition, Claridge's Hotel London has invited a distinguished designer to reinterpret the annual Christmas tree in their own distinctive style. For 2018 Christmas, American designer Diane von Furstenberg created a spectacular Tree of Love featuring over 8,000 hand painted silver-leafed leaves, glass spheres and 150 hand-blown glass hearts. The Tree of Love plays host to six different silver-leafed abstract designed animals.
"Claridge's is my favourite hotel in the world and my home in London. I was so excited to be invited to create its legendary annual Christmas Tree. My tree is 'The Tree of Love', celebrating all aspects of love and life, " said Diane von Furstenberg.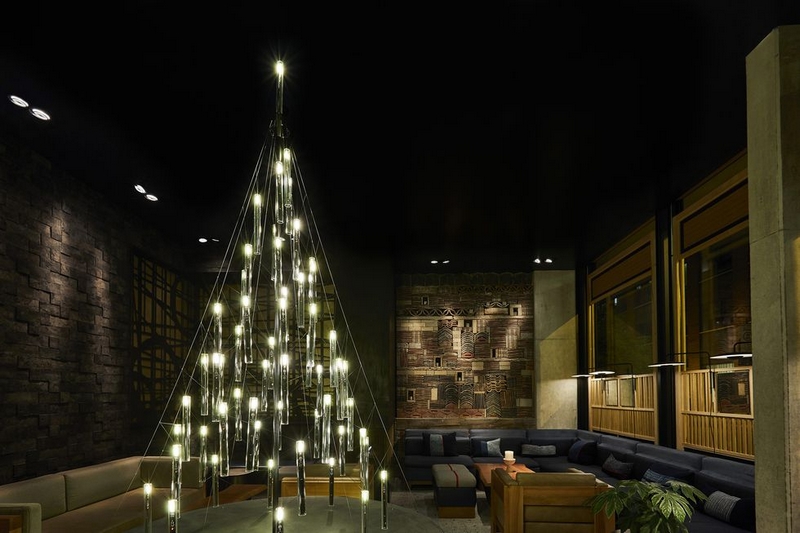 Nobu Hotel Shoreditch unveiled a bespoke LED Christmas tree designed by Studio Moritz Waldemeyer. The Christmas tree will be on display in the Lobby Lounge until the 9th of January. The luxury London hotel also unveiled an exclusive Festive Afternoon Tea menu and a special hot chocolate that will keep you cosy throughout the winter cold. "Going for a non-traditional Christmas dinner is distinctly 2018, so opting for the Chef's special Omakase feast feels both luxuriously novel and wholly on trend," says Nobu Hotel Team.