The Macallan the flask by Oakley. The world's most outrageous flask?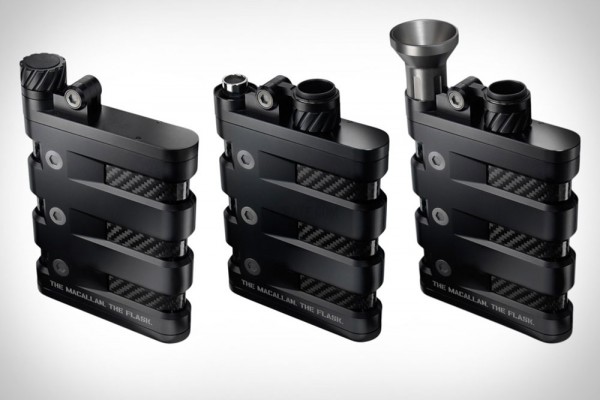 'The Flask' is the ultimate vessel for whisky aficionados concieved by luxury single malt The Macallan in partnership with sport and lifestyle brand Oakley. Durable in style and design, this Flask wasn't made to be hidden in a coat pocket.
Made with food-grade steel, carbon fiber and aerospace-grade aluminum, The Flask is more than a vessel; it's a statement, says its constructors. By blending Oakley's military and industrial design overtones with the subtle flavors and aromas of The Macallan's world-class single malt whisky, The Flask is "showpiece with complete utility".
"I love the story behind The Flask," said Oakley engineer Neil Ferrier, who initiated the project. "It was born in a very fitting environment. "When Ken (Grier, Director of Malts for The Macallan's parent company) visited Oakley's design bunker, he brought us some great Macallan. After a few drams, he asked (Oakley CEO) Colin Baden about making a convention-defying hip flask—and The Flask was born.
"The challenges along the way were a ton of fun and the result is a highly engineered piece of hardware dedicated to purpose beyond reason."
A rubberized bottom for non-skid grip and a small rectangular air vent on the side of the funnel to allow for ventilation prove that this vessel is made to be used, shared and enjoyed, noted Oakley.
The Flask's cap is double sprung to allow for effortless drinking, so it maintains an appropriate distance from the mouthpiece when in use for optimum enjoyment and allows for smooth open and close action. Its machined aluminum funnel, designed to securely thread into the mouthpiece, reduces the chance of spillage. World's most outrageous flask is limited to 100 items, priced £600.
In 2012, The Macallan received the Guinness World Record for the most expensive whisky ever sold at auction.
The brand has collaborated with some of the world's top photographers including Rankin, Albert Watson and Annie Leibovitz in The Masters of Photography series, creating a strong link between the mastery of making The Macallan and the mastery of photography. Each year a limited edition whisky or range of whiskies is launched in collaboration with a photographer.