The unprecedented collection of jewels that Elizabeth Taylor acquired over her lifetime will go up for auction at Christie's in New York on December 13th to 16th 2011 . Among her many stunning one-of-a-kind jewels is a Boucheron creation that has travelled far and wide before alighting on the shoulder of one of the world's most legendary women.
Created by Boucheron's artisans in 1900 the brooch exemplifies the finest workmanship of the Art Nouveau era – talents that were recognized the same year with a Gold Medal won at the prestigious Exposition Universelle in Paris.
The Boucheron artisans gave life to the Butterfly using segmented translucent enamel to form its majestic wings embellished with rubies and emeralds to create a butterfly's unique markings. Its body took form via a round opal and a large facet cut gemstone.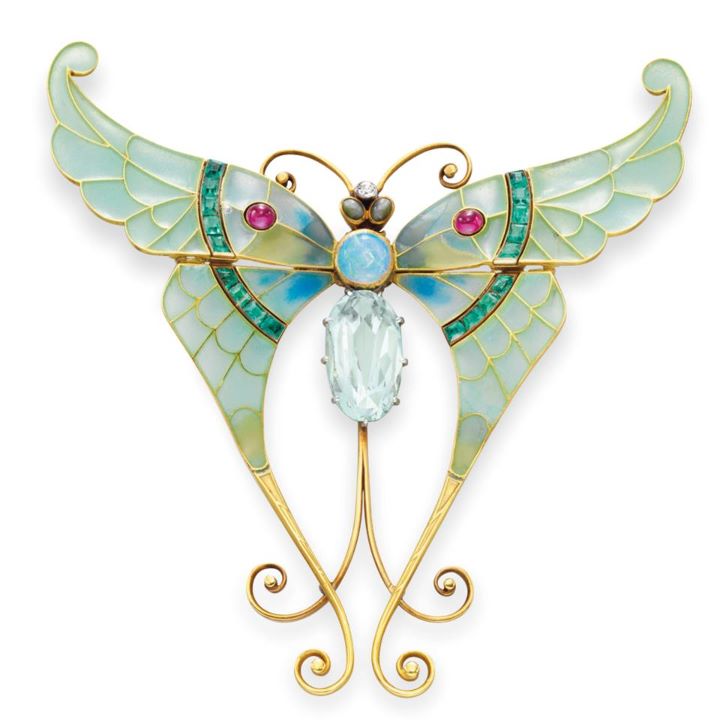 On September 26th 1901 a couple entered the Boucheron boutique on Place Vendôme and came across this Butterfly poised upon a hair comb. The creation evoked such emotion in the woman that the Butterfly and the woman instantly came to an understanding that this was the beginning of an adventure. Before leaving with the creature, she requested a large topaz for its body. A small personal touch that would remind the Butterfly of its first love.
The beautiful Boucheron Butterfly left Vendôme with its new owner to experience a life of exotic travel, lavish dinners, galas and of course love. Over the years it went on to choose new owners; maybe princesses on the Côte d'Azur, adventuresses in São Paulo, or even Geishas in Kyoto. Each relationship brought new color and new transformations to the Boucheron Butterfly. When it reappeared in the possession of the iconic actress in the 1970s, the Butterfly had gone through a chrysalis transformation, having metamorphosed into a practical, modern design of adornment- a brooch.