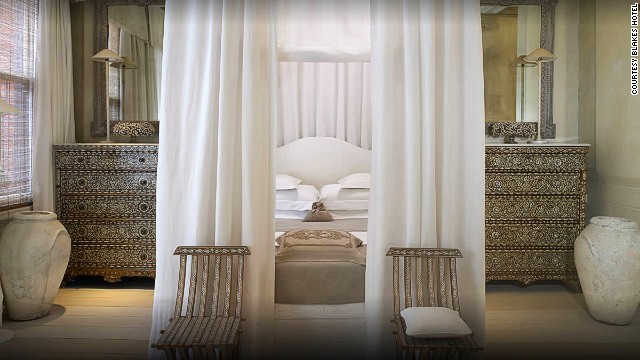 A favorite among honeymooning couples, the white elegance of the Corfu Suite at Blakes Hotel London featuring a four-poster king-sized bed, caught the attention of boutique hotel specialists Mr and Mrs Smith who awarded the bright airy luxury romantic suite – the world's sexiest hotel bedroom.
Stunning king sized four poster white French Provencal suite with abundance of gossamer nets and white fabrics and exquisite mother of pearl furniture. High ceiling, white on white on white, trompe l'oeil walls, hand painted white floor, light and airy, favorite for honeymoon couples. Leading onto the Courtyard with it's own front door, the Corfu Suite offers the ultimate in romantic luxury.
This month, Blakes Hotel launched its first signature scent. The exclusive candle, designed by master perfumer Roja Dove is ultra-suave and luxurious. The unique leather scent exudes, atmosphere and imagination – a wonderful and appropriate gift for the most discerning of people with Christmas on the way.
"There's such a leap of imagination from the streets of London to the bedrooms of Blakes. They're so exotic, elaborate and escapist. The perfect boudoir," Mr and Mrs Smith's head of curation Mary Garvin told AFP.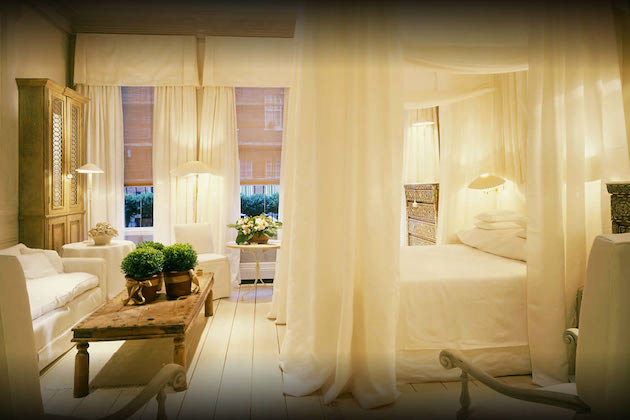 Celebrating the first decade on the Internet, the online booking site compiled their list of their favorite luxury hotels, spas and hotel restaurants around the world:
Mr and Mrs Smith list – 2013 winners:
Sexiest Bedroom in the World: Blakes Hotel, London.
Best Smith Hotel 2013: Post Ranch Inn, Big Sur, California, USA.
Best Spa Hotel: Como Shambhala Estate, Bali.
Best-Dressed Hotel: Alila Villas Uluwatu, Bali.
Hottest Hotel Bar: Ace Hotel, New York.
Best Hotel Restaurant: Bastide de Moustiers, Moustiers-Sainte-Marie, Provence, France.
Best for Families: Soneva Kiri, Koh Kood, Thailand.
The Eco Award: Sextantio Albergo Diffuso, L'Aquila, Abruzzo, Italy.
The Greatest Outdoors: Dunton Hot Springs, Colorado, USA.
Above and Beyond Award: The Upper House, Hong Kong.
Best Newcomer: Fogo Island Inn, Newfoundland, Canada.
Best Budget Boutique Hotel: Brody House, Budapest.