Cognac de Luze innovates with a new delicacy dedicated to the gastronomic and bar tending world: The Cognac Pearls XO Fine Champagne.
Pearls don't lie on the seashore. If you want one, you must dive for it …in the cellars of Cognac De Luze. This delicacy from family Boinaud will please everyone who is looking for quality and refinement.
Cognac De Luze's Cognac pearls are made from its prestigious XO Fine Champagne. These pearls enhance the delicate aromas of this subtle Cognac. The Cognac house Boinaud flourishes in the heart of Grande Champagne, the first Cru of Cognac within 420 hectares of vineyard and 41pot still distillery dedicated to the production.
Cognac Pearls can be used in your cocktails but also as a topping on dishes (such as oysters,foie gras, desserts, chocolate, ice cream,…) combining decoration and tastiness. These pearls are made from Cognac De Luze XO Fine Champagne that has been reduced to 8.5% of alcohol and encapsulated in a thin layer made from natural algae.
Cognac Pearls find naturally their place in the hearts of shoppers who want to enjoy the French Art de Vie in the innovative way..
"We really believe on the potential of this product which could bea plus, another reason to buy Boinaud's dedication and theboldness of the team to create new categories. It easier to imagine Cognac Pearls on each terminal and on the sensitive palate to everyone high-end traveller," said Damien BERTRAND, Commercial &Marketing Director.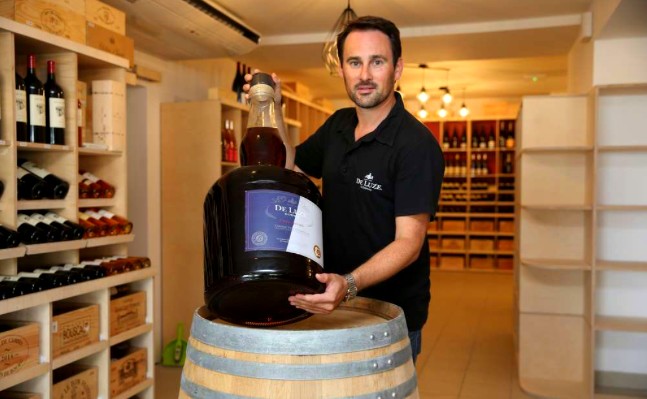 At the 31st edition of the Tax Free World Association World Exhibition & Conference at Cannes, Cognac de Luze and family Boinaud also launched the biggest bottle of cognac: 24 litres for 24 generations and a new extra expression.
Cognac De Luze came to life in 1822 thanks to the avant-gardism of Monsieur Alfred De Luze. Adventurer and coming from the wine industry, he decided to create its own Cognac brand. When the Boinaud family decided in 2006 to acquire this brand, they had only one promise: No deluzion! As a family who personified Cognac for almost four hundred years with the reputation to be hard working vineyard owner and distillers, they are achieving high level of quality and know-how.
Ten years after, Cognac De Luze remains a timeless brand, well-balanced and respectful of tradition and heritage. Added to the soul, ambition and dedication of family Boinaud and a Fine Champagne quality, De Luze won several medals as the Gold Medal of San Francisco Worlds Spirits Competition and the Trophy of the International Spirits Competition at London in 2017 both for its XO Fine Champagne quality. The brand is now distributed in 30 countries.