2017 London On-Water: Until now hydroplanes have been restricted to being developed as racing boats. The Alpha-Centauri is the first luxury hydroplane to enter the leisure market.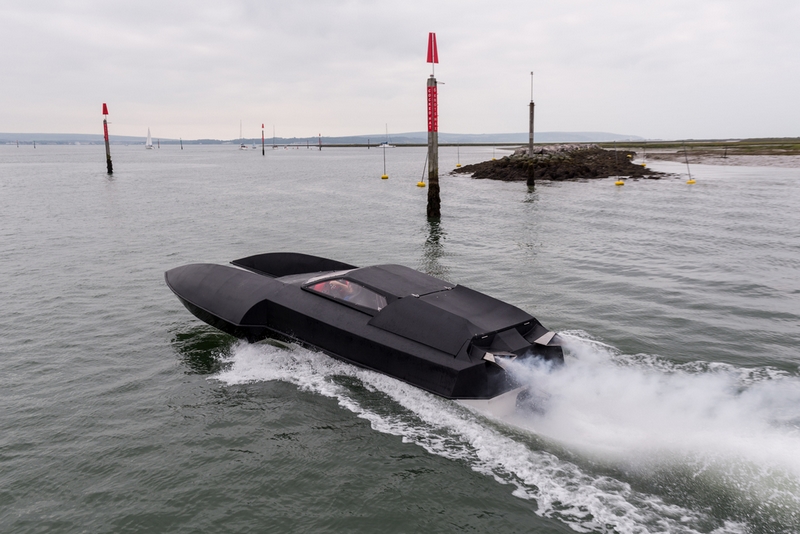 Much like Ferruccio Lamborghini brought the first non-racing mid-engine car to market in the form of the Miura car, the 8.3m Alpha-Centauri luxury hydroplane has been designed to be primarily a toy, superyacht tender or fun rib alternative.
Powered by a 9.4l big block chevy with power options from 550 to 2000hp (if you like your thrills on the extreme edge!), the Alpha-Centauri prototype is somewhere in the middle with 750hp and over 1000nm of torque.
The engine is coupled to a Scott twin-stage sprint jet which can rev up to 6k rpm, giving a maximum top speed of 60 knots and brutal acceleration.
The hull is made using cellular sandwich composite construction, with a stainless steel space frame giving high rigidity and low weight at just 1650kg. Designed with the aid of computational fluid dynamics software this hull gives an exceptionally low coefficient of drag.
Inside the four bucket seats, Raymarine navigation, digital dashboard and a sound system by Rockford Fosgate are located in an ergonomically sculpted dashboard and centre console with inset laser cut stainless steel panels.
On display at 2017 London On-Water show, the production boats are for sale from £120k +VAT (with 550hp).
2017 London On-Water will be at St Katharine Docks from Thursday 8th June – Sunday 11th June 2017. London On-Water, Central London's No.1 floating yachting and boating festival, returns to St Katharine Docks for the third year running, where over four days in June 201,7 the event and present a huge variety of yachts and boats on the water, from luxury yachts to dinghies and everything in-between.