An exceptional ruby ring, Picchiotti L'Anfitetro, created to celebrate Picchiotti's 50th Anniversary.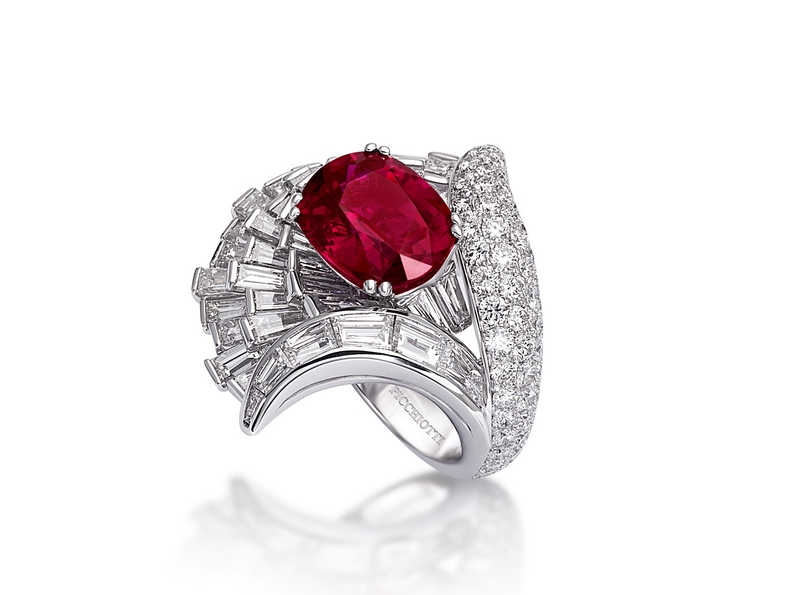 To celebrate its 50th Anniversary in 2017, Picchiotti has created L'Anfiteatro, an 8.05-carat ruby ring inspired by a classic amphitheatre and designed by founder and CEO, Giuseppe Picchiotti. The ring will debut at Baselworld 2017, the World Watch and Jewellery Show in Basel, Switzerland (March 23-30).
Picchiotti will also unveil its 2017 Collection featuring Picchiotti Signature Pieces, and the company's new  and innovative Xpandable Collection of rings and bracelets.
"For our 50th Anniversary I wanted to create a jewel that captured the essence of Picchiotti style and craftsmanship," said Giuseppe Picchiotti, "while keeping the spirit of innovative creativity very much alive and moving forward. I believe L'Anfiteatro is all that and more, a remarkable ruby, and a setting deeply infused with the essence of Picchiotti style."
The Picchiotti 50th Anniversary Ring is reminiscent of an amphitheatre, with three fans of "seats" (baguette diamonds) looking over the "leading actor" (the oval ruby). Weighing over 8 carats, the re
markable ruby is an exceptionally beautiful stone that has been classified as entirely natural, with no heat-treatment or color enhancement, which is very rare for a ruby of this size.
"It is the perfect stone, the one I had been searching for to create this special piece that marks this special milestone," said Picchiotti, "a piece for the true connoisseur, an heirloom worthy of an exceptional collection."
"Giuseppe searched far and wide for the ultimate gemstone to celebrate 50 years of Picchiotti's gem artistry and craftsmanship. He found just what he was looking for in this exceptional ruby, a brilliant new stone of extraordinary vivacity and intense colour, with a light, bright and clean crystal structure," said jewelry historian Vivienne Becker in her new book "Picchiotti: The First Fifty Years."
"Even more remarkable, the ruby has been classified as entirely natural, with no heat-treatment or colour enhancement, very rare for a ruby of this size. It is a gemstone with a strong personality and imposing presence, with charm, grace and charisma. A true connoisseur's gem, a natural treasure, a future heirloom, worthy of a princely collection, and now at the heart of a dynamically different Picchiotti creation that honours the past and looks to the future," added Becker.