Bulgari inaugurated its new jewelry manufacturing facility in the cradle of goldsmithing. Set in a former farmhouse in Valenza, it has been completely overhauled with the latest in sustainable manufacturing features for a cutting edge combination of old and new.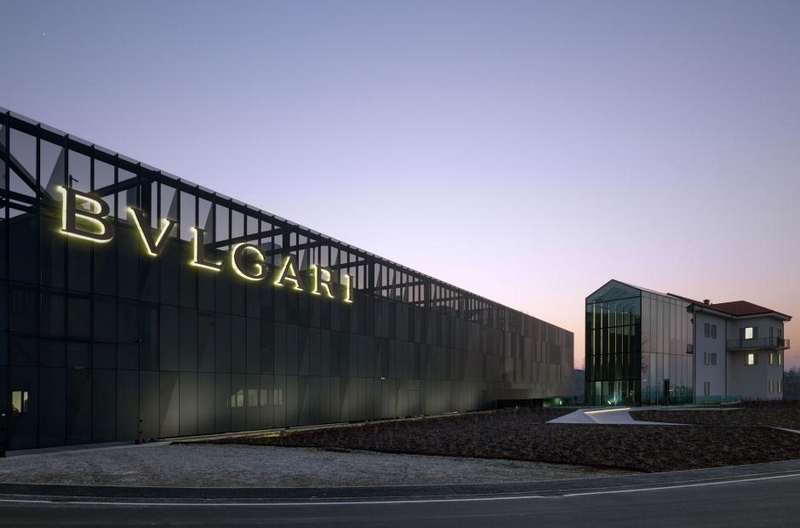 The Valenza site joins the network of Italian manufacturing facilities where Bulgari luxury products are crafted by Italian artisans: high jewelry in Rome, accessories in Florence, perfumes in Lodi and silk in Como. Only watches are made outside Italy, in Switzerland, where they bear the prestigious Swiss Made label.
Bulgari inaugurated its new jewelry manufacturing facility on March 17. Bridging tradition and innovation, the 14,000-square-meter site expands Bulgari's exclusively "made in Italy" manufacturing network. The launch of the new 14,000-square-meter site will lead to the creation of 300 new jobs by 2020.
The new Manifattura Bulgari spans two buildings. The Cascina dell'Orefice is where the first goldsmiths worked in Valenza in the early 19th century. Featuring a new wing encased entirely in glass, the completely renovated building has been dubbed the Glass House,. The second building houses production operations on three floors around a 600-square-meter interior courtyard, inspired by a Roman domus and bathing the interior in natural daylight. "This new facility is a perfect fusion of past and present, bringing together a love of beauty and the artisanal savoir-faire that has made Italy the world leader in jewelry and goldsmithing," says Jean-Christophe Babin, Chief Executive Officer of Bulgari.
According to Bulgari, the building has been constructed using innovative technologies, materials with low environmental impact and an emphasis on sustainability. The project aims to earn certification to LEED (Leadership in Energy and Environmental Design), the world's most demanding sustainable building standard.