The Huracán Perfomante in Arancio Anthaeus (Orange) was unveiled at Geneva Motor Show. Here are some perfect
shoes for the car of your dreams.
Lamborghini is known for its most sought-after super sports cars. Enthusiasts now have the opportunity to celebrate their passion for supercars through a special shoe called Mizuno Wave Tejin 2.
Collezione Automobili Lamborghini and prestigious Japanese sports brand Mizuno announced the partnership two years ago during the Geneva Motor Show. Mizuno is a sporting equipment manufacturer established in Japan in 1906.
The collaboration includes with the new co-branded running shoe, Wave Tenjin 2. The design inspired by the Aventador rear window and the iconic hexagon pattern enhance their power whilst improving the dispersion of perspiration.
The new Wave Tenjin 2 is the evolution of a successful limitless performance. While the Smooth Ride insole converts weight into energy, stability is improved by a new design of the base, a mix of rubber and carbon fibre, which maximises performance of the X10.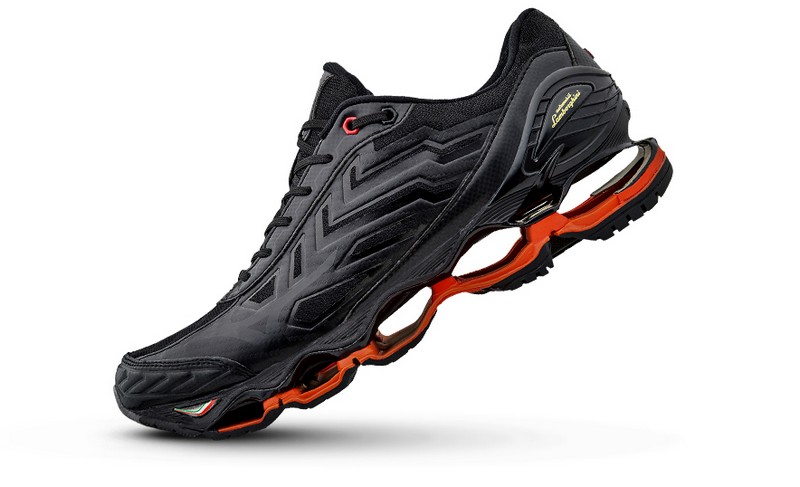 The new collection will reflect the philosophy of Ad Personam, the customization program that enables each customer to create his or her own personalized Lamborghini. Customers can select their choice of colors, materials, finishes and accessories in line with the style criteria of the Lamborghini brand.
The partnership between Lamborghini and Mizuno covers sports apparel as well as footwear.
At the 2017 Geneva Motor Show, Automobili Lamborghini unveiled the Huracán Perfomante, a supercar combining new lightweight technologies, active aerodynamics with aero vectoring and a new set-up of chassis, all-wheel-drive system and further improved powertrain. The Huracán Performante is the result of Lamborghini innovations, producing a super sports car balanced between achieving the best lap times on a circuit with the most engaging and dynamic road driving.
On 5 October 2016, the Huracán Performante set a new production car lap record of 6:52.01 min on the Nürburgring Nordschleife in Germany.
"The Huracán Performante is the convergence of technological developments to produce a car delivering perfect performance," commented Automobili Lamborghini Chairman and Chief Executive Officer Stefano Domenicali. "This new car represents the powerhouse of Lamborghini DNA and innovation, and a 360 degree approach to creating class-leading super sports cars. It illustrates the pinnacle of Lamborghini V10 production car performance to date, on both track and road, and is perfectly exemplified by its name: Lamborghini Huracán Performante."