Hennessey 25th Anniversary Edition HPE800 Ford Mustang GT.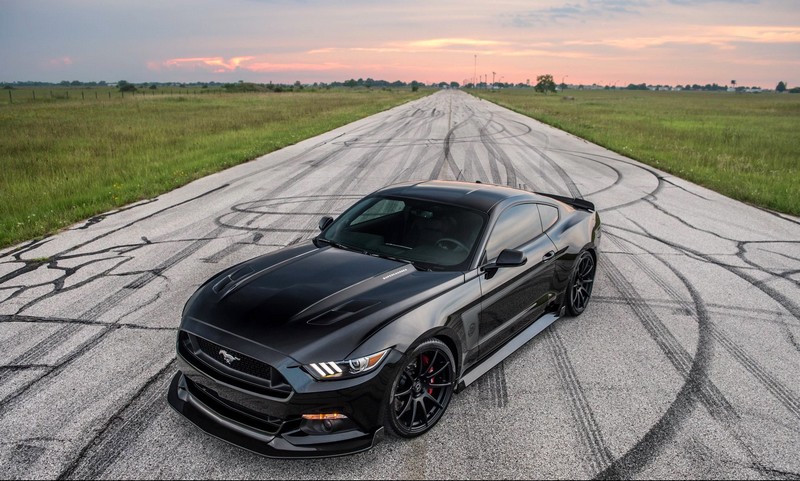 To commemorate 25 years of supercharging engines, Hennessey Performance unveiled a special limited edition 25th anniversary Ford Mustang GT with 804 bhp and a top speed of over 200 mph. Only 25 will be produced, each one offering supercar performance and are backed by Hennessey 3 year / 36,000 mile warranty.
To mark 25 years in the tuning business, the 25th Anniversary Hennessey Mustang with a staggering 804bhp was made to reach a top speed of 207mph. The American supermuscles car can also sprint from 0-60mph in just 3.1 seconds. The anniversary vehicle can be specified in coupé or convertible form with both automatic and manual transmissions.
The Hennessey special edition carries a HPE800 Supercharged 5.0L V8 engine, with a 2.9-litre Supercharger system. A limited edition serial numbered plaque and a Hennessey 25th Anniversary certificate of authenticity are included.
Established in 1991, Hennessey Performance (HPE) now operates from a new facility comprised of a 36,000 square foot building. In addition, Hennessey operates Tuner School, the world's first fully state-licensed school dedicated to teaching and training future performance vehicle tuners. HPE is also the only aftermarket tuner in North American that has its own proving grounds, the Lonestar Motorsports Park ¼ mile dragstrip.