Wanda Reign On The Bund Now Open. The property is billing itself as the city's first "7-star" hotel.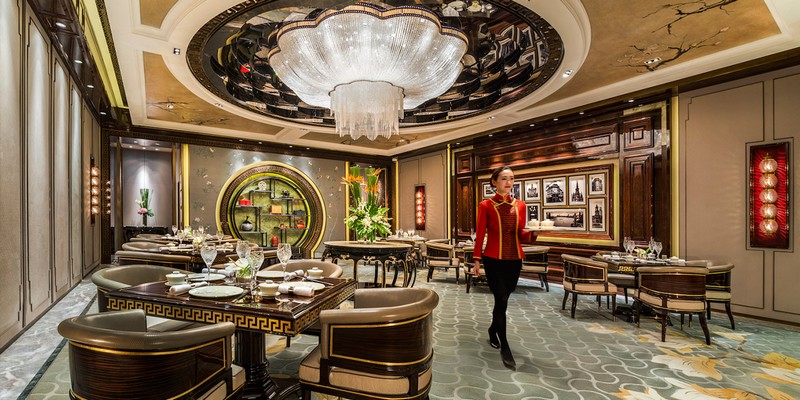 Wanda Hotels & Resorts made its grand debut in Shanghai with its flagship hotel, Wanda Reign on the Bund, which is the 51st hotel of the group and the third hotel of its ultra-luxury hotel brand – Wanda Reign, after Wuhan and Chengdu. The hotel enjoys a superior location along the historic Bund, located right in front of the famous Shiliupu Marina. Built to raise the bar in luxury hotel experiences, the hotel owned by Wang Sicong (28), the son of the Chinese real estate baron and philanthropist Wang Jianlin, is a sort of a museum of art and antique pieces by contemporary Chinese artists.
The design has inherited the elegance of Shanghai's cultural art elements from the 1920s and 1930s, such as magnolias and traditional Suzhou embroidery. The hotel exterior was designed by celebrated British architectural firm, Foster and Partners. The subtle sense of art extends to the design of staff uniforms. Laurence Xu, a globally acclaimed designer and the first Chinese designer to ever join the Paris Haute Couture Week, was invited to be the creative designer of the team members' uniforms.
"Shanghai is an international cosmopolitan city that attracts a lot of global attention," said  Boris Blobel, Managing Director of East China and General Manager of Wanda Reign on the Bund. "The launch of Wanda Reign on the Bund marks the group's official debut in Shanghai, and it serves as an important gateway to the international market. With Wanda Reign's exclusively designed facilities and personalized services, we believe that Wanda Reign on the Bund is poised to become the leader in Shanghai's luxury hotel industry, setting new standards for ultra-luxury hotels."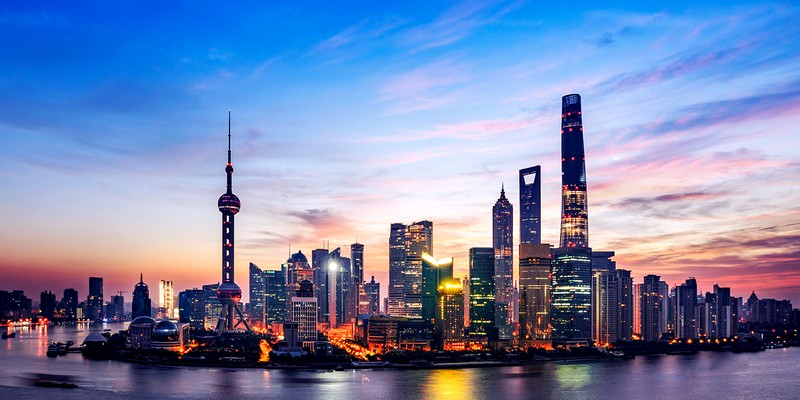 The hotel features 193 guestrooms including 14 uniquely designed suites, ranging from 45 square meters to 288 square meters, with stunning views of The Bund, Huangpu River, Pudong skyline and the ancient Yu Garden. Guestrooms are designed in two distinctive styles – Trendy with high energy and Noble, Luxurious and Distinguished. Featuring beige tones, the Trendy concept blends Art Deco glamour with modernity, while the Noble style incorporates mahogany burl wood, magnolia embroideries and Art Deco elements.
Each guestroom is equipped with a digital control system, complimentary high- speed Wi-Fi and an iPad smart in-room control including in-room dining ordering function. Each room door is fitted with a digital mini screen peephole, with images that can be viewed on the in-room LCD TV. Guests can easily and conveniently be informed of visitors without walking to the door.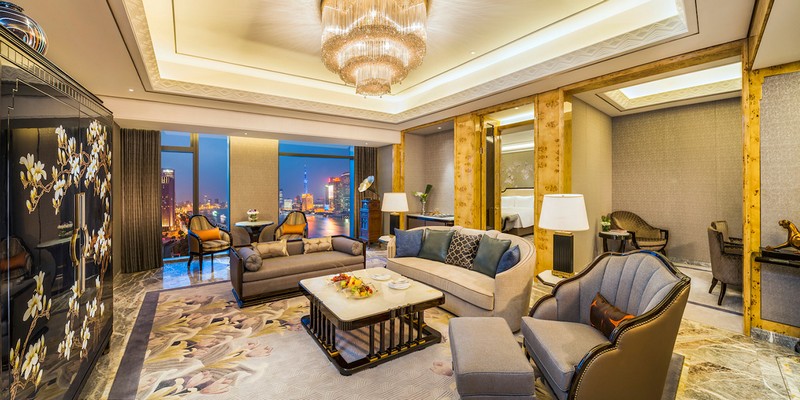 For ultimate privacy, an individual valet box allows staff to collect laundry, deliver in-room dining trays or newspapers without disturbing guests. The "Bed of Reign" features a handmade Talalay latex mattress from the USA and tailor-made wool bedding from New Zealand. In addition, Wanda Reign's signature "Dream Catcher" services, including fragrance, music and bedtime reading amenities, further ensure guests a blissful night's sleep. The spacious marble bathroom is equipped with a floor heating system, a separate shower and bathtub, an automatic toilet, a heated towel rack and exclusive L'Occitane personal care amenities.
Each suite exclusively features an advanced massage chair from Ogawa, a 55-inch B&O LCD television, a 5.1 Sound Bar system and Hermes personal care amenities.
Located at the top of the hotel building (20th floor), the 288-square-meter Chairman Suite has the most breathtaking views of the historic Bund, Huangpu River and Pudong skyline. The exclusive, beautifully appointed suite features a spacious living room, a grand dining area with adjoining pantry, a stylish bar, separate study room, and a master bathroom with a sauna and a large massage bathtub.