Feminine Entrepreneurship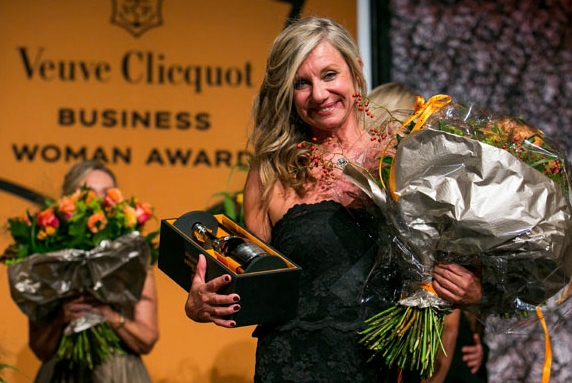 For the 40th anniversary of Veuve Clicquot Business Woman Award creation, the Swiss edition of the award was presented to Bea Petri, founder and CEO of Schminkbar. Her company's successful "makeup bar" concept won over the jury, comprised of prominent figures from the worlds of the business, media and culture.
Paying tribute to Nicole-Barbe Clicquot-Ponsardin – the founder of the Champagne house, the Swiss edition of the 14th edition of the Veuve Clicquot Business Woman Award took place in Zurich and recognized the leadership, audacity and creativity of visionary woman of every nationality.
For this Helvetian edition of the trophy competed five business women: Bettina Ferdman Guerrier, head of the Philias company, Bea Petri, CEO of Schminkbar cosmetics, Maya Reinshagen from Mayoris, Yvonne Kurzmeyer, head of the Table Suisse, Valerie Peyre, from Tekoe teas .
A pharmacist by training, Bea Petri is a self-taught entrepreneur. 20 years ago she decided to change careers and began working as a makeup artist. Her travels aroung the world, form New York to Bangkok, inspired the idea for the "makeup bar", a concept revolving around a unique association of cosmetics and culinary pleasures. Building on its leitmotiv of well-being, the company has become the market leader in Switzerland, Bea Petri's native country.
Beyond her antreprenorial success, Bea Petri is actively involved in humanitarian and social initiatives. Schminkbar has also launched a vocational training program in Burkina Faso that has to date enabled over 80 young people to acquire skills in sewing, cosmetics and makeup.
Veuve Clicquot Business Woman Award is the first international award created specifically to recognise the contribution that women have made to business life and is now regarded as the "Oscar" for female entrepreneurs and business leaders.
Veuve Clicquot owes its extraordinary reputation to a remarkably modern woman: Madame Clicquot. Married in 1798 to Francois Clicquot, owner of a Champagne business, and widowed at 27, she took control of the business and was one of the first women to lead a company of men. Proud, stubborn and strong-willed, she overcame the climatic uncertainties of arid land and always demanded "only one quality, the finest."