The idea of floating sustainable islands based on solar energy is in the air. The latest Solar Floating Resort (SFR) is signed by the Italian Industrial Designer Michele Puzzolante, a designer passionated about the renewable energy and the development of affordable, inexhaustible and clean solar energy technologies.
Michele Puzzolante imagined a hospitality non-polluting project in unison with its natural surroundings, half luxury hotel suite, part yacht and part luxury submarine, totally self-sufficient energy generator. SFR is composed of a central tower, a deck with thirty-two modules and an habitation part with twenty modules, ideal for living in marinas connected to front beach hotels or island resorts.
Each module is composed of two skins in composite balsa reinforced fiberglass that has been extensively used in the naval industry due to its lightweight and high structural performances. It's more resistant than a twenty centimeters wall stone.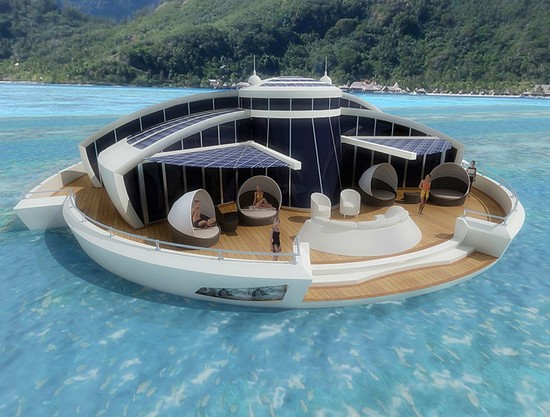 The outside skin integrates thin films photovoltaic that absorbs sunlight energy and the inside skin integrates thin films photovoltaic that absorbs artificial lighting energy generated by the electrical bulbs. Between the two skins there is a thirty centimeters vacuum insulation thanks to the airtightness properties of the composite balsa reinforced fiberglass.
Power for the electrical and propulsion systems comes from the thin films photovoltaic that are integrated into the structure of SFR. The propulsion system is not intended for ocean crossing but to be sufficient for moving SFR to nearby reefs to explore marine life.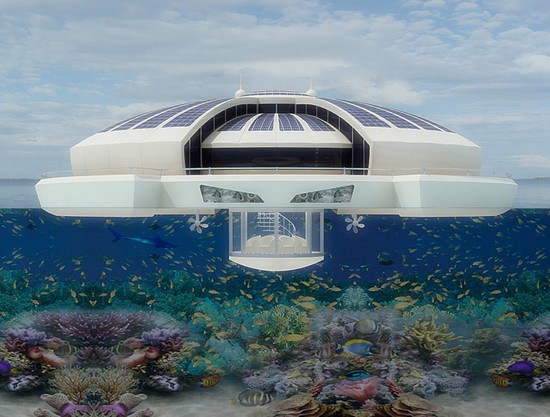 SFR reaches twenty meters in length, is designed for six people at sea. The Italian design calls for two single and two double bedrooms, each with private a bathroom. A large kitchen, a dining area, a lounge area and a pilot room complete the 110 m2 interior layout.
Outside, the teak deck is set up with a large semicircular lounge/dining area, six individual day beds and a six places Jacuzzi.
"With an estimated 30,000 front beach hotels and island resorts around the world, the Solar Floating Resort has good chances to become a reality," believes Puzzolante.
"Moreover, setting the good example by using renewable and clean energy in any type of industry is today a must," added the designer.
There is more electrical energy created by the sun in one hour than the entire world use in one year. The amount of solar energy reaching the surface of the planet is so vast that in one year it is about twice as much as will ever be obtained from all of the Earth's non-renewable resources of coal, oil, natural gas, and mined uranium combined.