Spyker x Koenigsegg at 2017 Geneva Motor Show. Spyker cars have always been bespoke in every aspect apartfrom their drivetrain.

Spyker announces engine supply agreement with Koenigsegg for its Preliator sportscars on the occasion of the world debut of the Spyker C8 Preliator Spyder at the 87th Geneva International Motor Show.
The normally-aspirated, Koenigsegg dry-sump 5-litre V8 engine boasts 600 hp and 600 NM of torque. Koenigsegg has developed this engine specifically to meet Spyker's needs and the Koenigsegg V8 will be installed in every Spyker C8 Preliator, both the Coupe, which was launched in March 2016, and the new Spyder, and replace the Audi V8 powertrain as from car one. The Koenigsegg engine will be mated to a six-speed manualtransmission.
Victor R. Muller, Spyker's Founder and Chief Executive Officer, said on the occasion: "This is our single most important advancement in technology since I founded Spyker in 2000. I have always admired the amazing technologies developed by Christian von Koenigsegg and his dedicated team creating one of the most sophisticated cars and engines on the planet, and I am convinced our Spyker C8 Preliator clients will
tremendously enjoy the huge performance leap.
The announcement was made on the occasion of the global debut of the Spyder version of Spyker's C8 Preliator, launched here in Geneva exactly a year ago. Spyker translated its timeless aviation inspired design to the ultimate convertible, culminating in the Preliator Spyder. The design reflects the progress made with the Preliator from concept towards a production car. The Spyder, in Ascot Bronze, on display at the 2017 Geneva
Motor Show features an automatic soft top and a saddle Litano leather interior with honeycomb contrasted stitching.
Spyker's production of the C8 Preliator Spyder will be limited to 100 units only.
In fact, this is the only 600 horsepower series produced sports car available with a manual gearbox on the market today.
"Although our peers believe the manual is virtually dead, and many have vowed we would never see them again, our discerning clients have clearly spoken out in favour of the manual: the Koenigsegg powered Spyker C8 Preliator Spyder will provide an engaging purist driving experience second to none tantalising all senses. The howling sound of this normally aspirated engine will be unmistakable and thrilling," added Spyker design team.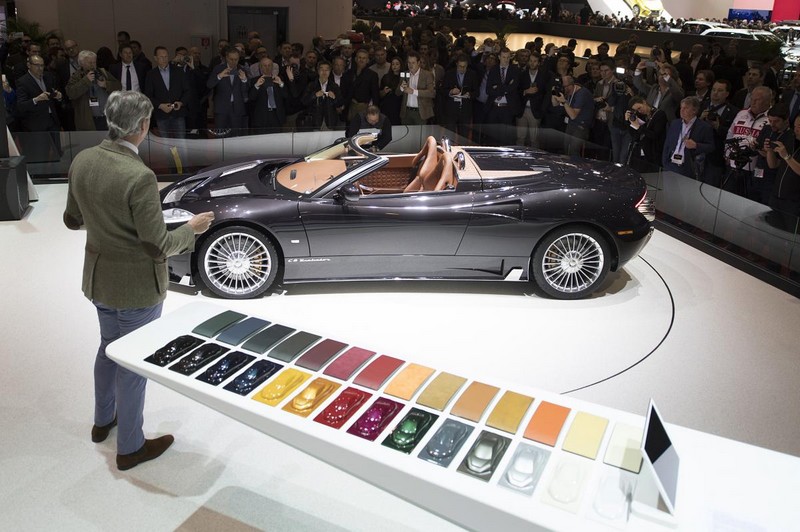 Preliator owners may now operate their favourite music apps, including Spotify and Apple Music, with simple, memorable hand gestures via the integrated controlled Head-Up Display. The system brings entirely new mobile-and digital experiences to Spyker C8 Preliator owners. All Preliators will feature carbon fibre bodies.
The Spyker C8 Preliator Spyder, of which the manufacturer will make a mere 100 units and production will start by summer 2018, will be assembled in Coventry, UK, together with CPP Metalcraft.