2LUXURY2  had the opportunity to have as guest Mr Jean Cassegrain – CEO Longchamp in our Luxury Q&A rubric. An exclusive interview about Longchamp brand values, the development of the brand from the beginning to present and future, the main challenges in a dynamic market. And of course, about luxury.We thank to our contributor –  Yang Di –  for her support in having this interview.
Longchamp is a familly business. What are the core values of the brand ? What is the benefit to be independent?
Our brand's key words are leather, family, fun, quality and creativity. We have managed through the years to keep a good combination of those and our purpose is to continue to create and take risks. Our independence gives us the capacity to develop our projects and remain free to create, innovate and take risks as we could not otherwise. Being an independent family company allows us to take a long term view in most of our business decisions.
What means the Longchamp spirit and how this is carried on over the generations?
From leather covered pipes to the first Nylon luggage, or from Longchamp's Le Pliage success to our recent collaboration with Kate Moss, innovations made our way to what Longchamp is nowadays, an international luxury brand. Even if a lot of things have changed since 1948, we are still as focused on innonvation and quality as we were in the eraly days.
For the first time in the history of the brand – a shoes collection was launched. It seems that the brand always looks for new directions…as it was in in 60's, when you drop the pipe's line…to make room for the accessories. What other surprises Longchamp will prepare for it new clients?
The world is changing and we have been successful because we have always managed to adapt to our times. It is fortunate that we did not stick to making only pipes ! It has been a smooth process for us to evolve from the pipes, to leather accessories, to handbags and now to the world of fashion in a broader sense with shoes and ready-to-wear.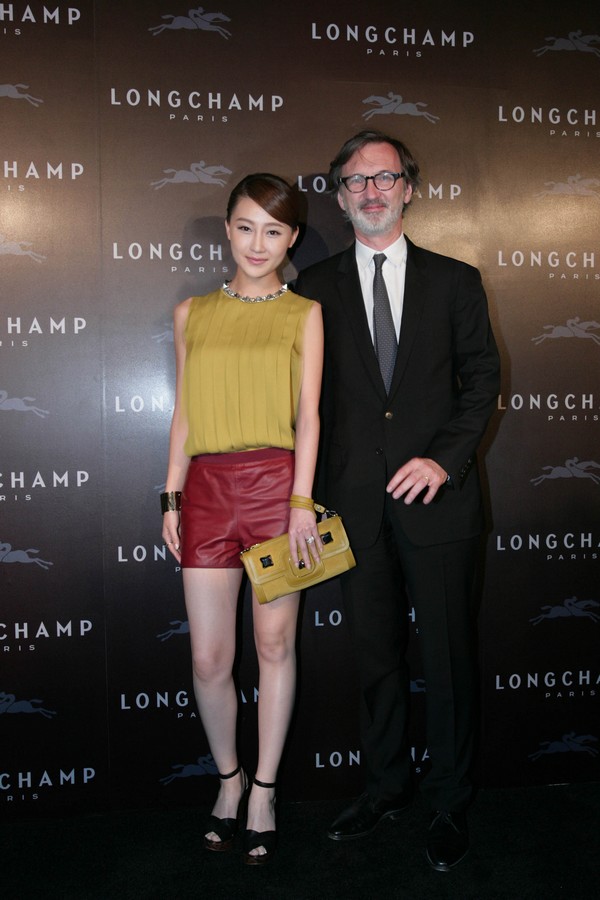 What are the biggest challenges facing Longchamp at present?
In our industry, every season is a new challenge, every season we end to come up with new and exciting ideas.
Certain seasons or certain years are tougher than others and more challenging. This was the case in 2008/2009 during the international economic crisis. Thanks to the stregnth of our product offer and to our worldwide distribution (101 countries) we have managed to end the year 2009with an honorable + 4%, when most of our competitors were down.
One of the difficulties we are facing now is to secure the supply of high quality hides that we need to meet the incresasing demand for our products.
A spectacular shop on Earth, the Longchamp New York brings to the visitors, not only a store but also a piece of art. Can you tell us more about how is this idea and concept started?
The new Longchamp tailor made store design concept was developed by worldwide renowned architect Eric Carlson,from Carbondale agency and is rolled out progressively to all our boutiques worldwide. The beauty of the materials chosen and the extreme attention to detail reflect Longchamp's tradition of craftsmanship, while some of the company's most emblematic signatures, such as Veau Foulonné leather and the LM print motif, are reinterpreted as elements of the store design.
What is the pattern of Longchamp's clientele ?
Even if our brand has now become fully international, our products are always designed with the French woman in mind. Our typical Longchamp woman is a Parisian, she is active, modern and her style is effortless. she enjoys life and wants to have fun.Our customers like our sense of quality and the casual style of our bags.
What's the must-have Longchamp item?
Balzane has been our best selling handbag in the past two seasons. And of course Le Pliage, either in its original nylon version or now in leather, is and will remain a must-have.
What means luxury to you in one word?
Excellence
What are your models or fundamentals in life which you will recommend to others?
Work, family, respect for others.
What is your favorite luxury brand(s) and why?
Longchamp obviously comes at the top of the list ! I enjoy using our own products and I am our most demanding customer ! I also admire some of our other French family luxury brands such as Hermès or Chanel.
Name 5 luxuries which are "indispensable" for you and why:
I'll just name one ; being able to enjoy vacations with my family
Digital and Luxury. Love or Hate? What means "digital" for you ?
Digital has been a priority for Longchamp since 2001 when we launched our first Longchamp website, we were a pioneer among French Luxury Brands! We have also launched our e-commerce site with our collections but also with a tailor made options on some products. I believe that a creative brand like Longchamp will attract new Chinese consumers through the quality and constant inventiveness of our products, together with adapted, younger dedicated communication platforms.
How will be luxury in the future?
Simple, casual, effortless.
See all gallery. On the top, Longchamp advertising <OH! my dog>. A movie by Bianca Li