Capturing the spirit of the 1960s, the Piaget Extremely Lady watch has retained all of its sparkle with its unconventional oval stone dial and elaborate gold bracelet. For SIHH 2018, Piaget is introducing seductive new bracelet designs for Piaget Extremely Lady Watches.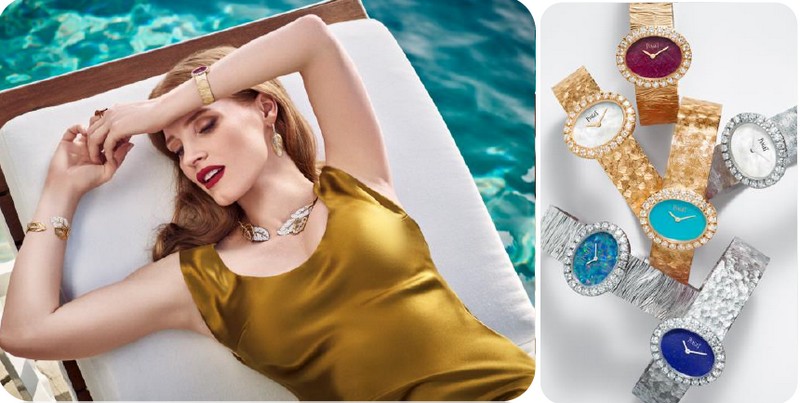 Revisiting three gold work designs from its heritage, Piaget honours a rich tradition of turning precious gold into sumptuous textures through the virtuosity of its goldsmithing. The textured beauty of fur, frost and wood has been reworked on new watch bracelets, creatively expressed in precious pink and white gold. In its ateliers, the Maison preserves the rare gold work required to create such intricate designs, ensuring these skills are passed on to the next generation of artisans.
The lush forests around la Côte-aux-Fées inspired a gold engraved bracelet textured like wood, while the cold winter landscapes inspired the frost decor. Even the fur that makes its appearance during the cold winter months is morphed into an alluring gold bracelet.

Inspired by the soft fleecy texture of luscious fur, a voluptuous fur-like gold bracelet wraps around the wrist with exceptional suppleness. The luminosity of the 18K pink gold fur engraved bracelet is intensified by the pearlescent mother-of-pearl dial delicately set with 24 brilliant diamonds.
In white gold, the radiant fur texture of the gold contrasts with the deep blue of a lapis lazuli dial framed by dazzling diamonds.
A gold design imitates the intricate grain of wood. When paired with a heart of ruby oval dial the wood-like pink gold bracelet creates an effect of warmth, while the combination of a white gold wood bracelet with an ice-blue opal dial gives the watch a crisp and ethereal quality .
The ephemeral beauty of frost on a white gold bracelet catches the light to give the surface of the gold its icy magnificence. Paired with a mother-of pearl dial, the oval watch scintillates vividly, enhanced with the bright intensity of diamonds. A pink gold version of the bracelet evokes a morning frost in the warmth of the sun, with a striking turquoise dial.