Aston Martin – Preview Salone del Mobile 2016. Interiors by one of the world's most revered luxury automotive brands.
Salone del Mobile 2016 is around the corner. The eyes of the design world will be on the 55th edition of the Salone del Mobile. Milano: a fascinating and evolving platform showcasing products and services of the highest quality, at the Milan Fairgrounds, Rho, from 12th to 17th April 2016. Also featuring three exhibitions, a short film, an award and the city as a whole.
For this year's edition, Aston Martin Home division prepared new additions furnishing living areas with muscular personality. The new bookcase V083 and V163 – the new Aston Martin armchair are characterized by a futuristic style. The homewares offering is communicating the pillars of the luxury automotive brand: Power, Beauty & Soul.
The new bookcase V083 (Sizes: cm 450x50x130h) is available in two options: a lacquered silver matt structure with frontal drawers in Alutex and a lacquered black glossy structure with frontal drawers covered in leather Deer Black Ink. The effects of light play result from a LED lighting system. The piece of furniture is made in Italy, produced and distributed in worldwide exclusive by Italian furniture specialist Formitalia Luxury Group, the provider of luxury interiors and accessories for exclusive homes, hotels, executive offices & yachts.
.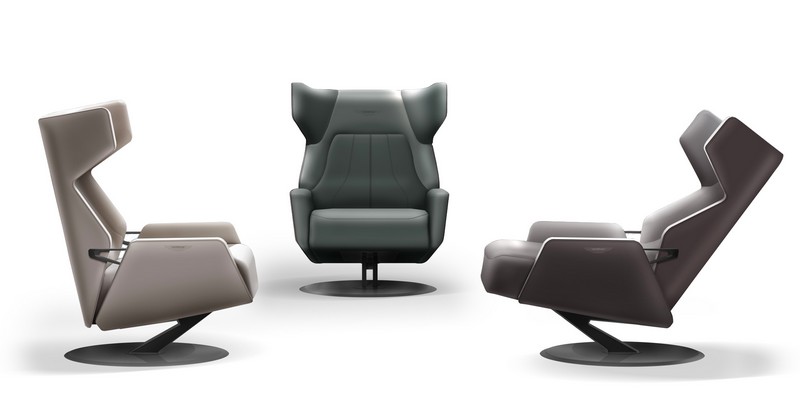 V163, the new Aston Martin armchair (Sizes: cm 73x83x98h), is characterized by a style that combines a strong personality with an excellent comfort. Fully upholstered in a soft Aniline leather, it is equipped with recliner mechanism that also allows the extension of the seat, which guarantees more relaxing positions. It has a glossy black metal base and it is available in different colors.