Ferrari Powered Hydroplane to be Auctioned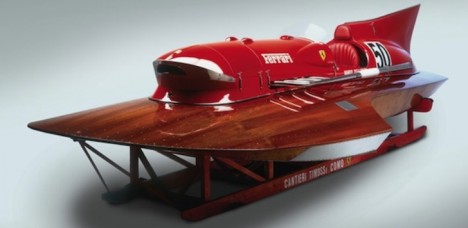 The world-famous Ferrari-engined Hydroplane racing boat, ARNO XI, is now set to fetch around $1.5 million at RM Auctions' Monaco auction, 11th – 12th May, 2012.
This world-famous racing boat was constructed with assistance from Ferrari and the great Grand Prix drivers of the period and went on to establish a world water speed record of over 150 mph (241.70 km/h)
ARNO XI was the brainchild of Achille Castoldi, who, wanting to establish a world water speed record, set about developing the ultimate powerboat. During 1952 and 1953, Mr. Castoldi, a friend of the famous Ferrari Grand Prix drivers Alberto Ascari and Luigi Villoresi, succeeded in convincing Enzo Ferrari to provide knowledge and technical assistance to develop the boat. The result was horsepower provided by a 12-cylinder, 4,500 cc V12 Ferrari engine, the same as that installed in the Type 375 Grand Prix car that gave José Froilán González Ferrari's first ever World Championship Grand Prix Victory at Silverstone in 1951, with the only addition being twin superchargers that developed in excess of 502bhp at 6000rpm. On 15th October, 1953, ARNO XI achieved 241.70 km/h (150.19 mph) on Lake Iseo in northern Italy, establishing a world speed record for an 800kg boat. The record, incredibly, still stands today.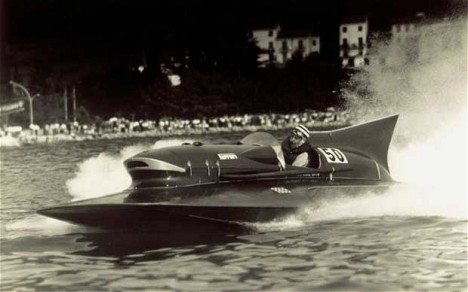 When Castoldi was finished with ARNO XI, it was sold to Nando dell'Orto, who went on to race it with great success for more than 10 years, securing numerous wins. The boat went through various aerodynamic improvements during that time, including a modified nose and the addition of a fin, finishing its competitive racing career in 1960 with a European championship victory and numerous fastest laps, many of which still exist.
"It's an exceptional piece of history, made even more famous by the countless models one sees of it in important collectors' libraries and is likely to appeal to serious car collectors as much as it will to traditional boat collectors," says Peter Wallman, specialist at RM Europe. "It has that alluring mix of '50s Ferrari grand prix car with the sheer beauty and simplicity of the hydroplanes of the period. We are honoured to have been entrusted with its sale," he continues.
The current owner acquired the racing boat over 20 years ago, restoring it to concours condition. ARNO XI has been in the water many times since and is not only an impressive sight when seen in action but also sounds magnificent, says Rm Auctions.