Raymond Weil maestro Frank Sinatra limited edition timepiece.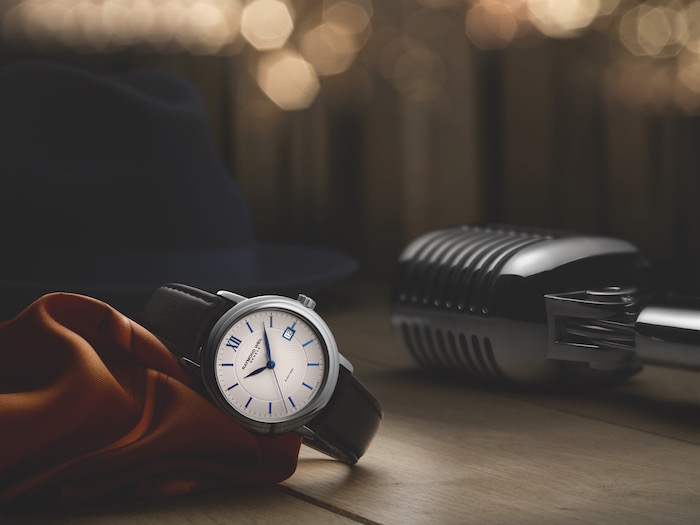 Swiss watchmaker Raymond Weil partnered with the Frank Sinatra Family to commemorate the hundred year anniversary of the birth of Frank Sinatra. Throughout 2015, Sinatra will be globally honored with special tributes,partnerships, book and video releases, television and film events, performances andmuch more, including the Grammy Museum's "Sinatra: An American Icon" exhibit hosted by The New York Public Library for the Performing Arts.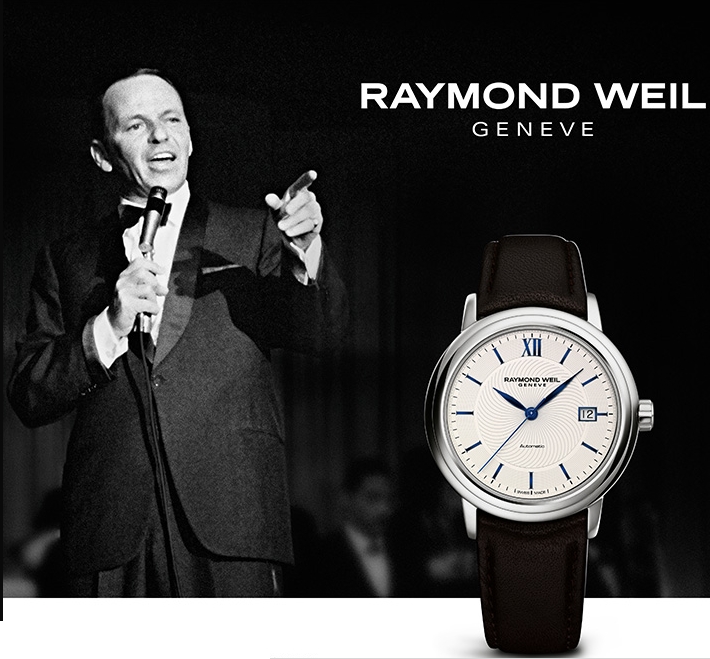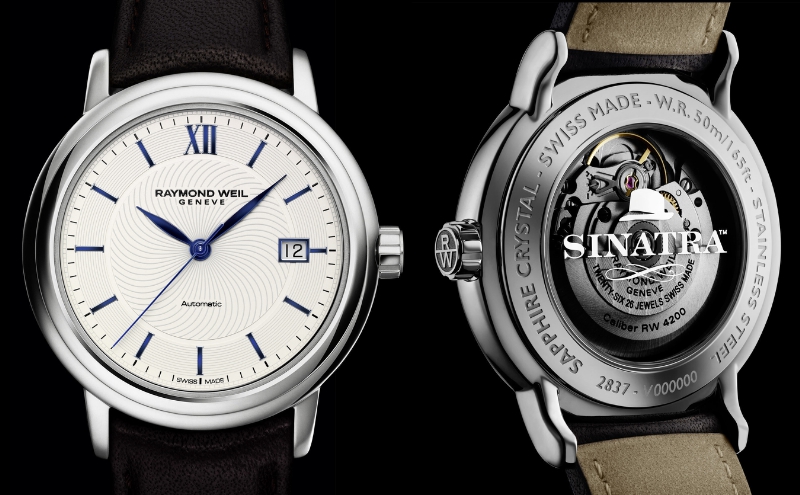 As part of the "Sinatra 100" centennial celebration, Raymond Weil has introduced Maestro Frank Sinatra Limited Edition – a special limited edition timepiece reinterpreted from Raymond Weil's classic maestro collection.
"Frank Sinatra was a charismatic character who left an indelible mark in the hearts and minds of many generations; he embodied an era, a style, and a tradition and was above all a passionate man of extraordinary talent. As a music-loving family company, it is perfectly fitting that we pay tribute to this undisputed maestro of music with a limited edition piece in our maestro collection," said Elie Bernheim, CEO, RAYMOND WEIL.
The timepiece features a mechanical movement with automatic winding housed in a39.5 mm stainless steel case. Reminiscent of the famed "Ol' Blue Eyes," the hands,index markers, and contour of the date window are a bright blue hue, against thebackdrop of a silver dial. A transparent caseback boasts a special Sinatra Centennial insignia, while the twelve marker, highlighted as the only Romannumeral, signifies Sinatra's December 12th birthday. Also in reference to hisbirthday, only 1,212 pieces of the maestro Frank Sinatra Limited Edition watch are
available.
"Frank Sinatra understood the vital importance of time and when preparing his music he employed what he had named 'the heartbeat tempo.' For that reason, he insisted that his wristwatch would have the utmost mechanical integrity and construction to guarantee many years of faithful and accurate service," said Frank Sinatra, Junior. "Master of horology, RAYMOND WEIL has steadfastly maintained this degree of excellence and in the centennial celebration of the birth of Frank Sinatra, I am proud to see my father's name associated with this magnificent timepiece."