Addressing a growing demand for iconic, rarefied statements, father and son duo, Tim and Oli Oulton,have made it their mission to rewrite the antiques rulebook through an offering that transcends typical collectors and dealers.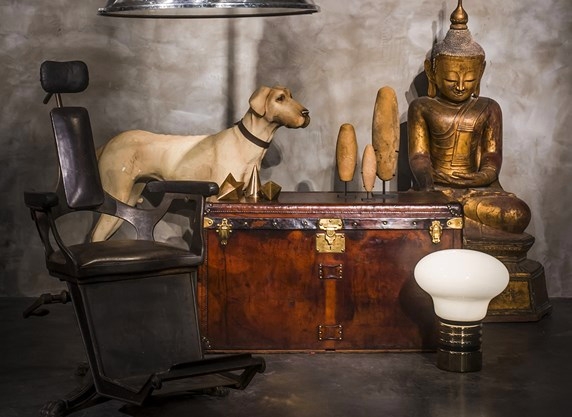 From Tuesday 20th February to Tuesday 31st July, Harrods, the London luxury department store, will be hosting a Rare by Oulton pop-up boutique where visitors will find a must-see antique collection procured and collated by father and son duo, Timothy and Oliver Oulton. Traversing the world of art, antiques and luxury interiors, the boutique is  set to become the go-to domain for those aiming to discover unique and original pieces built on the principles of heritage, craft and irreverence. With the brand's flagship boutique in Hong Kong, the pop- up in Furniture, Third Floor will showcase some of its most desired collections.
The Rare collection by Rare by Oulton includes distinctive, unusual and, of course, rare pieces as well as one of the world's largest selection of antique custom Louis Vuitton, Maison Goyard trunks.
Some rarities in Rare by Oulton's portfolio:
1920 Goyard Steamer Trunk
A Goyard Signature Goyardine canvas Steamer Trunk that features wooden slats, steel and brass hardware. This leather-edged Trunk is in good vintage condition. It also features brass side handles. The untouched interior features its original lining. The inner side of the lid is quilted with thin white ribbons, it bears the original label from Maison Goyard.
Louis Vuitton Leather Cabin Trunk from 1870
This Louis Vuitton Cabin Trunk was among the earliest trunk production by Louis Vuitton. Entirely covered by leather. It features two comfortable leather side handles, leather corner bumps and brass hardware. The interior features its original lining, the inner side of the lid is quilted with thin white ribbons and is stamped with the Trunk's number: 130591. There are signs which suggest that the original owner was from the United States: a label on the lid that is written "City: Boston", and the initials "H.D." together with "Boston, U.S.A." on the front.
Louis Vuitton Monogramme President Briefcase fitted with Rare Scottish Snuff Set
This Louis Vuitton President Briefcase encloses a very rare and unique table "snuff mull" in the form of a scrolling horn that was formerly at Edinburgh's famous Lawnmarket Club. The use of snuff, had by the mid-19th century, become fashionable and widespread, and such was the demand for it that large containers or "snuff mulls", were invented to stand on the table or sideboard to serve all.
For him, A victorian era hip flask with hallmarked silver bayonet-fit lid. The glass body is covered in beige snakeskin leather.
Part of Rare by Oulton's collection of 20 bulldogs, this imposing piece is great as a quirky container in a gentleman's hideout or as a decorative desk piece.