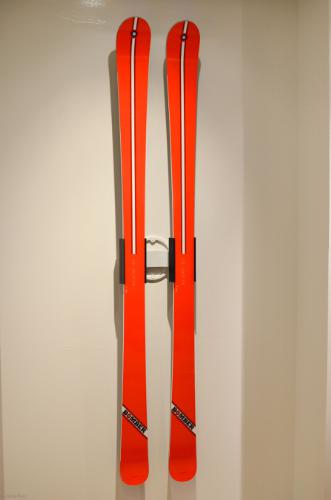 Unlike any ski store, Bomber Gallery in Manhattan displays skis as works of art, similar to New York's Museum of Modern Art's (MOMA) masterpieces — just a five-minute walk from Bomber's Madison Avenue Gallery. In fact, in the Madison Avenue's new Bomber Ski Gallery in Manhattan which just opened you will find Jean-Michel Basquiat's and Keith Haring's imagery beautifully displayed and ready to be raced down the pistes of the world's leading ski resorts.
The interior of Bomber's Ski Gallery is all white, with a midnight-blue ceiling, and the walls are flooded with light to highlight the unique design of each ski. Each pair of skis are mounted as if they are floating three inches off the wall, with only one pair displayed every five feet.
All Bomber is called by WWD the "couturier" of ski masters and all its skis are handcrafted in a small race lab in Italy.
"The skis are built by a master craftsman with decades of ski production experience and every pair is exactly the quality skied by Bomber's US Team Athletes. After skiing Bombers for two years, I found their quality so superior that we purchased a majority interest in Bomber," said Robert Siegel, a Principal of RKR Ski which invested in Bomber and CEO of Metropole Realty Advisors.
"No expense is spared to create Bomber Skis, as the company's sole focus is creating the best skis that man, modern technology and the best materials are capable of building," added Robert Siegel.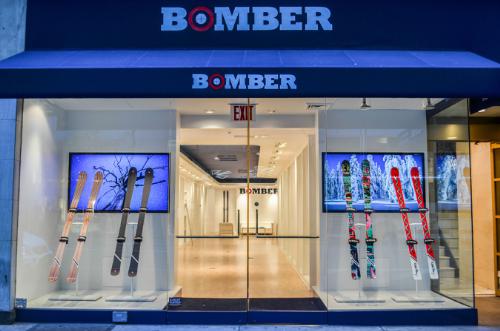 Bomber is also an Official Supplier to both the US and Canadian Ski Teams, and at least two US team members are likely to be competing in the 2014 Sochi Olympics on Bomber Skis, K.C. Oakley and Jeremy Cota.
Bomber has now taken its already beautiful skis, such as its classic "Woody", "Red-Baron", "Pure-White", "Stealth- Black" and "Glacier-Blue Skis" to the next level by adorning their skis with imagery of Jean-Michel Basquiat and Keith Haring.
"Multiple design options enable skiers to select the look that speaks to their personality and style. Whether you are a racer, hard-core athlete, artist, fashionista, powder hound, mogul hunter or just fun-loving skier you will find a design that expresses your sensibility," said KT Stallings Bren one of Bomber's Principals through RKR Ski. KT added, "Our first-ever Basquiat and Haring skis were designed just in time for our 2013-2014 store opening."