Clifford Denn's design for Heesen Project Maximus puts the owner's needs first. This new revolutionary 83-metres concept is maximus by name, and maximus by nature.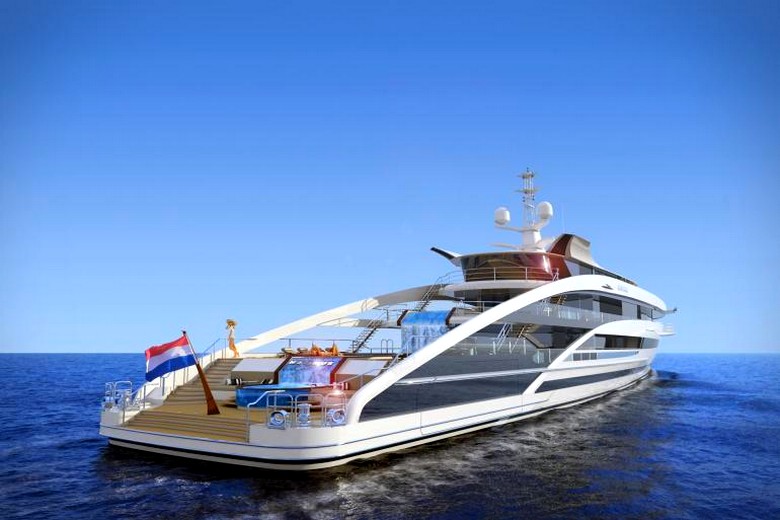 At the 2017 Monaco Yacht Show, Dutch shipyard Heesen revealed the concept for thir largest megayacht  to date. The stunning 83m (or 272ft) concept with a steel hull is called Project Maximus and is a design signed by yacht designer Clifford Denn. The design is a marriage between a cruise ship and a  superyacht with a deck that extends from the stern to foredeck. Yacht's signature features includes a rear swim platform, a long pool with a waterfall flowing from the deck above, a Jacuzzi, a fire pit, and a flexible interior layout. This yacht has a hugely flexible platform that offers optimum distribution of both interior and exterior volumes and spaces to achieve a long, low, sleek and narrow vessel.
"The 83m concept from naval architect Clifford Denn (who has designed for Cunard (QM2), P&O and, in particular, Viking Ocean Cruise vessels) is designed to reap the benefits of the new shed, which favours long, streamlined hulls," commented charterworld.com
"The low-lying design balances interior and exterior volumes and following on from Clifford Denn's experience creating large passenger yachts, the wheelhouse is located beneath the passenger decks to give the owners and guests complete use of the exterior decks from the bow to the stern."
Wide stairs link all external decks, and a fantastic cosy covered external lounge/dining area is located just forward of the pool on the Main deck.
Providing good wind protection for all aft decks and optimal hydrodynamic performance for which Heesen is renowned, this flexible platform, packed with Heesen signature details, can accommodate up to five guests, with the option to be configured as 2 x VIP and 1 x guest by opening linking doors, in addition to a stunning Owner's suite.

Heesen Yachts' portfolio is full of novelties this yachting season.
Heesen Yachts' Home made her début as world premiere at the 2017 Monaco Yacht Show. M/Y Home is the winner of the MYS RINA Award 2017 – the award for the most environmentally-friendly luxury vessel displayed at the 2017 Monaco Yacht Show.
"She is the world's first Fast Displacement with hybrid propulsion. She is not only an ultra-efficient, low fuel-burning yacht, but also one of the quietest on the oceans, offering the ultimate luxury: Silent cruise.," says Heesen Shipyard.
"She offers superlative performance and efficiency in a luxurious design package of under 500GT. Add a striking superstructure, vertical bow and spacious aft platform and we believe this yacht is a cut above others in her class," added Heesen.