Porsche Design reveals 24-carat gold BlackBerry.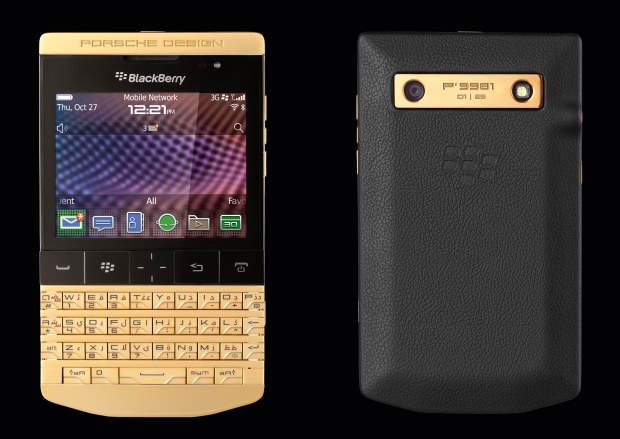 BlackBerry is continuing its Porsche Design collaboration unveiling a 24-carat gold version of the Porsche Design  BlackBerry P9981, to be available in certain Porsche Design stores in July.
The production of the gold-plated, leather-bound P'9981 Gold smartphone is limited to 25 handsets made out of a stainless steel case with a gold-colored titanium coating. The gold phone is featuring a 24-carat gold layer and a 24-carat gold camera cover engraved with serial number and 2AA prefix code, that informs other BlackBerry users that they are communicating with a P'9981 device.
Products with clean lines and no frills are at the heart of Porsche Design philosophy, the shape of the 24-carat gold BlackBerry keeping the minimalist appearance.
The Porsche Design P'9981 smartphone from BlackBerry is based on a platform which features a 1.2 GHz processor, modern sensors with support for augmented reality experiences, and the ability to record videos in HD quality. The P'9981 also has 8 GB internal storage and a 16 GB Micro SD card. In total, the storage can be expanded up to 40 GB. The smartphone also features Liquid Graphics technology, which provides a smooth, fluid visual experience on the phone's high resolution 24-bit graphic display.
The smartphone's software comes with advanced applications like the Wikitude "augmented reality" world browser, which takes advantage of the phone's array of sensors.
The black version of the Porsche Design P'9981 smartphone from BlackBerry received the globally acknowledged "red dot" award for the "best of the best 2013″ for design quality. In addition, the renowned Plus X Award team voted the P'9981 the "Smartphone of the year 2012".