Zaha Hadid Design's 2018 collection unveiled at Maison et Objet in Paris 2018.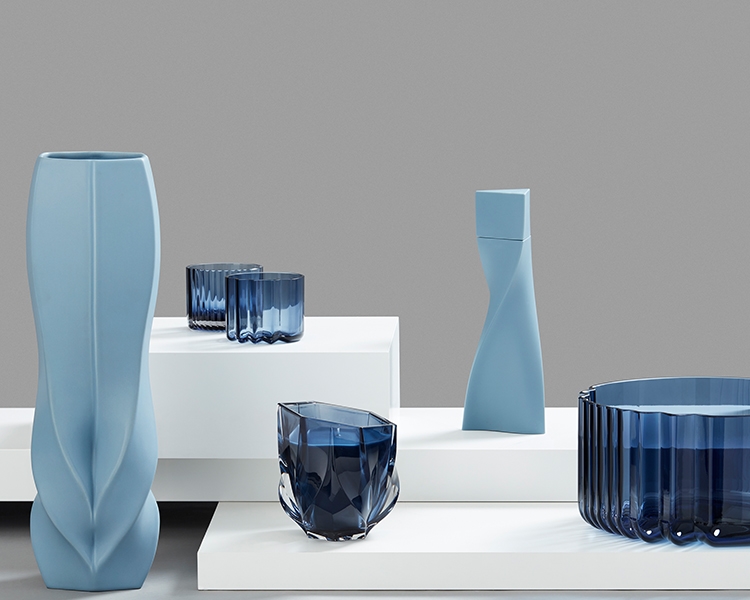 To respond to the demand for Zaha Hadid's work on a commercial level, the label ZAHA HADID DESIGN Collection features a selection of homeware and giftware. The 2018 ZHD Collection by Zaha Hadid Design conveys the unrivaled innovation within the late architect's work. The 2018 homeware collection was designed with Hadid's unwavering belief in the power of invention in a diversity of materials, both traditional and contemporary.
Outstanding new pieces continue the fluid lines and subtle, organic geometries that define the collection.
The Pulse glass vessels differ in height and colour, yet are unified by the textural contrast between smooth and 'pleated' glass. Displaying the glass-blower's expertise and craftsmanship in the creation of ripples across only a portion of the circumference, the vessels give the illusion of simplicity while encompassing the detailed exploration within Zaha Hadid's pioneering work.
Inspired by Zaha Hadid's architectural tower form research the vases embrace geometric complexity and sculptural visual interest. Each vase is meticulously crafted in fine bone china and finished in a reflective glaze.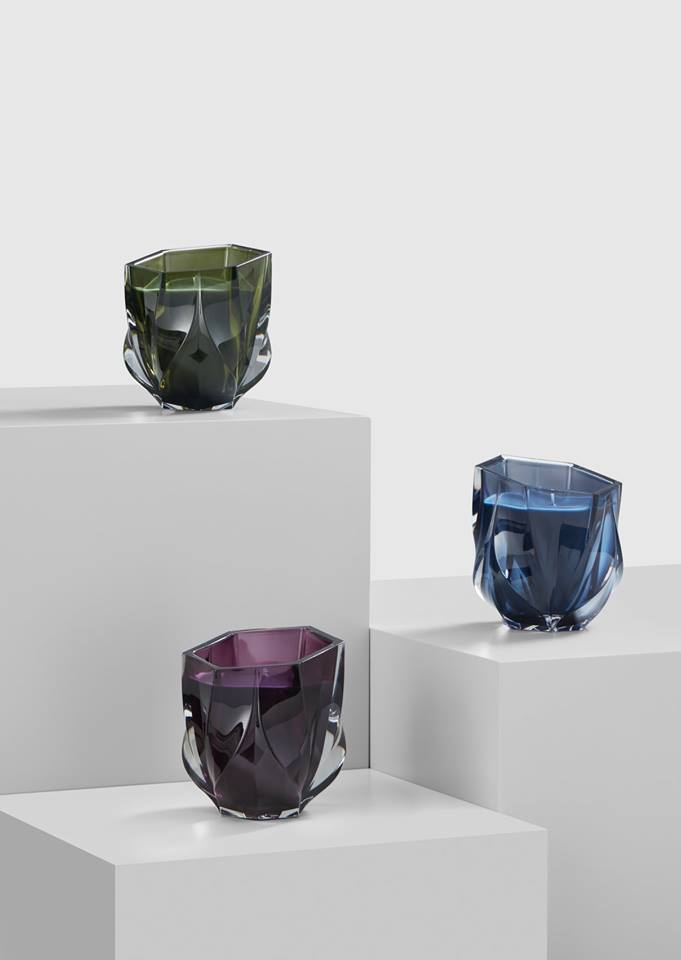 The Shimmer Tea Lights are a further addition to the 2018 design collection, that have been inspired by Zaha Hadid's tower form research. The faceted crystal surface reflects and refracts the light, creating patterned variations on the surrounding environment in which it is placed. Available in four new colours for 2018; Red, Olive Green, Slate Blue, and Purple.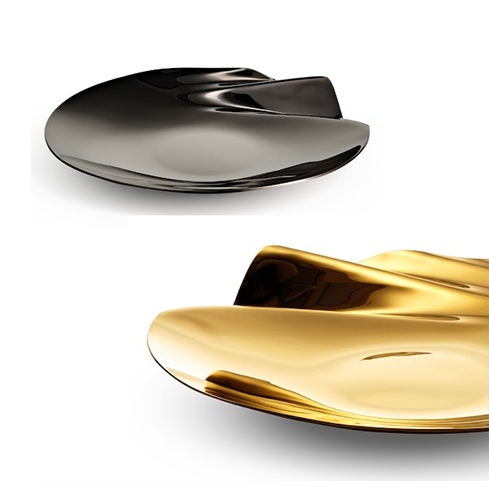 The Serenity Platter presented at Maison & Objet Paris 2018 design fair is a centrepiece formed of highly reflective stainless steel. The undulating surface creates a sense of movement, and dynamism, while playing a vital role in the objects' stability. Available in three colours and sizes. New for 2018 is the Serenity Platter in Black.
The Duo Salt and Pepper Grinder creates a playful, sculptural addition to any dining setting. The ceramic mechanism is enclosed within a twisting shell, combining both style and functionality. Available in three colour combinations.
The Cell collection of three stainless steel candle-holders draws inspiration from the replication and growth of cellular organisms – the individual points, the 'nuclei', are connected by a dramatic reflective landscape, which appears to hover in mid-air. Every angle of this form has been considered and honed, so that in profile the edge thickness slightly varies – although this presented a considerable challenge in fabrication, it has produced a subtle, uncompromising and flawless quality that is unique to Zaha Hadid Design's work.
The Serenity Bowl is a further addition to the Serenity series of highly reflective stainless steel tableware objects. Defined by a distinctive undulating surface the bowls are available in three sizes to accommodate a variety of uses, from serving ware to centrepiece.