Dining culture and exclusive instagrammable gifts.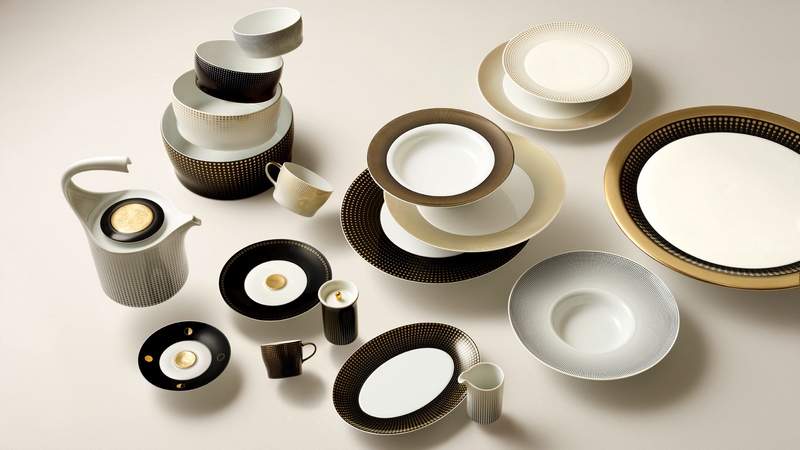 From March 5th, 2017 the Fürstenberg castle museum, the museum of the second oldest porcelain manufacturer in Germany that still operates on its original site, is ready to be rediscovered, when the castle opens its gates following the refurbishment.
Here the fascinating transformation in dining culture from 1747 to the present day can be experienced in a unique way. imm cologne, maison & objet paris, and the results of the latest ceramic auctions at Christie's and Sotheby's are a proof that fine porcelain, gold and silver are kings of the "Art de la Table". Both fragile and strong – porcelain shares many properties with poetry.
When speaking about dining culture and exclusive gifts of the 2017, we speak about artisans mastering the art of working with porcelain, silver, gold, and crystal. The style resides between heritage and modernity. Ceramicists, enamellers, artisans, artists, and glassblowing poets create rare objects to collect that don't pass unobserved. For those obsessed with beauty, but not for everyone.
This delicious banquet is served from the finest tableware and cutlery brought from all the major houses of Europe and contemporary giants of design. Plates, cups and saucers are sourced from renowned porcelain makers. A set of
award-winning Christofle silver cutlery is joined by beautifully crafted drinkware and table accessories from German and French artisans. The list is curated by Bonadea, the online stage for talented artisans and a home for the world's finest tableware.
Bonadea means "Good Goddess"/ "a special protector or the guardian of the home" in Latin, which suitably describes the high-end platform. The hallmark of Bonadea is the combination of design and luxury in unique works of art, set apart by an unprecedented level of crafted artisanship. Founded by Gemma Martínez de Ana, the online hub offers curated selection and bespoke journeys for finding the perfect pieces that complete a home.
Up your tableware style credentials by dressing your home in 2017 pieces from Christofle, Fuerstenberg, Legle, Fos Ceramiche, and others. Be inspired by these beautiful, sculptural additions to the table.
Cutlery. Memories are made when gathered around the table.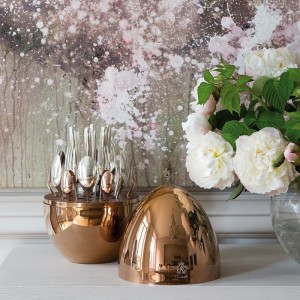 Christofle MOOD 24 Piece Rose Gold Cutlery Set – French art de vivre
Bring elegance and modernity with the Mood set by French silversmith Christofle, a set featuring a four-piece cutlery suite for six people. This giant rose gold egg is a statement piece for any table, not just for Christmas or Easter. Perfect for all occasions, Mood by Christofle fits everyone's needs.
A choice of the best chefs of the world, the 24 pieces of finely hand-crafted and silver plated cutlery are stored in their own niche of the walnut wood interior. As Christofle says, "… shiny without ostentation, intelligent without pretense, and versatile yet sincere."
Dinner Service. "Clean plates don't lie."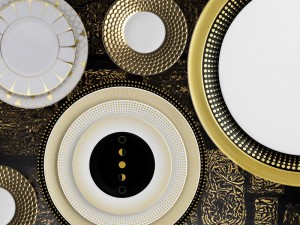 Clair de Lune set by Fuerstenberg – a magnetic personality
Inspired by the Lunar effect and the four principal lunar phases, this collection is a brainchild of Fuerstenberg, the icon of classic porcelain artwork, and Korean ceramicist Kap-Sun Hwang. A fusion of ancient tradition and new interpretations, the hand made in Germany collection includes charger plates, dinner plates, bread plate, Espresso cup & saucer, and salad bowls in fine porcelain decorated with 24-carat gold. Truly hypnotic!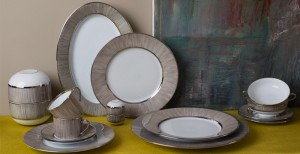 Carbone Bronze Charger by Legle – Ancient craft meets modern design.
Each of the Legle Carbone Bronze Chargers are hand-painted in Limoges, the capital of the finest porcelain in the world. Each masterpiece encases the warmth and energy of the Legle artisans, ceramicists and enamellers dedicated to hand-craftsmanship. Bon Appetit!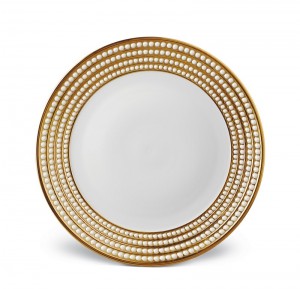 Perlée Gold by L'Objet – The classic pearl motifs in Decades Of Elegance
Pearls are always appropriate. L'Objet placed ropes of pearls on fine porcelain plates finished with a fine metallic accent, decorated with rows of realistic 3D white porcelain 'pearls'.  Each high-end piece is rimmed in lustrous gold for an extra-special finish. Make place for the queen of gems and the gem of queens!
Table Accessories.
Eye-catching pieces that demand to be centre of attention.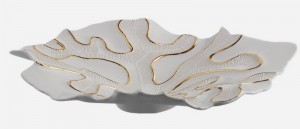 Fossilia Gold Centerpiece by Fos Ceramiche – a spectacular statement centrepiece or an elegant bowl
Due to the handmade nature of this sculptures, no two centrepieces are ever exactly alike. Inspired by Madrepore, a stony  coral of the genus Madrepora, Fossilia Gold by Fos Ceramiche will capture imagination with a sculptural and textural approach. The ancient stony corals are painted in fine gold detail.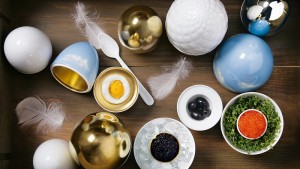 Matroschischka Gold Egg Cup – a breakfast egg or a cocktail snack?
Crafted from fine porcelain with a beautiful metallic finish, Matroschischka Gold Egg Cup by Fuerstenberg and Sieger is a stylish serving solution, including for a caviar-on-demand menu. The caviar server allows one to place crushed ice below the refined bowl when serving one of the world's most exclusive delicacies. A stellar caviar experience, in the comfort of your homes.
Carla Baz for Bonadea: Borgia Large Candelabra. Gracing the tables of the culinary elite.
Make your table spectacular with this Borgia Candelabra created by French-Lebanese designer Carla Baz. Designed exclusively for Bonadea as art pieces and functional objects, the Borgia range consists of two interchangeable rings. The lighting collaboration project that works from day to night is hand crafted in solid brass.
"For me, good design is functional. That's why I use traditional materials. Yes, we are creating beauty, but we're not just artists. The best designs are practical, they listen to people's needs, and are made from materials that last, that can be passed on from one generation to another. If it's trendy, it's obsolete," Carla Baz said in an interview.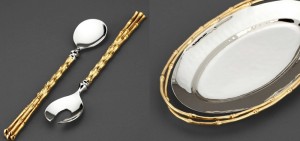 L'Objet Evoca 2 Piece Serving Set & Nile & Co Gold Crocodile Knife Rest. Bring richness and sophistication to your table.
Decorated with intricate timeless influences, the Nile & Co Gold Crocodile Knife Rest and Evoca 2 Piece Serving Set will bring you back to a period of grandeur and royalty. Bright joie de vivre, crocodiles, and and and oval placemat.

Styling your table is about pleasure. Take some time to consider presentation before the afternoon tea or the grand dinner parties. Think about the themes, textures and precious materials. A little crocodile garnish will bring the whole dish together.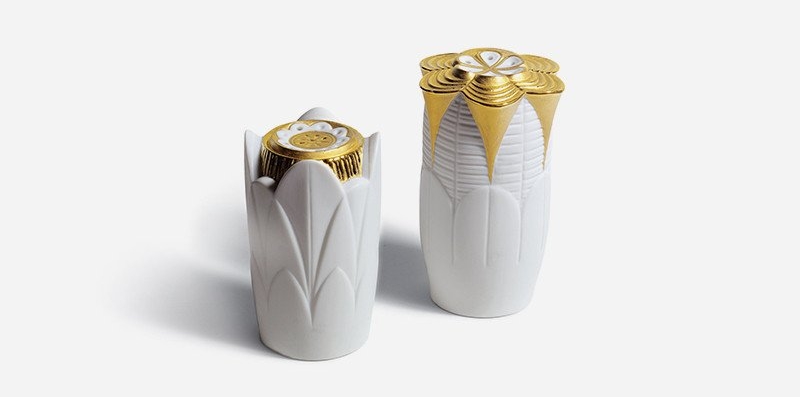 Taste Explosion: Naturo Gold Salt & Pepper Shakers Set
If you want to wow your guest with a special dinner, don't overlook the table decor… especially the sculptural accessories. A few flowers like the Naturo Gold Salt & Pepper Set may be the secret to the best soirée ever. Sculpted in handmade white porcelain in the Lladró Spanish workshops, each piece represents a different abstract flower.
Drinkware  – The ultimate Gift for the connoisseur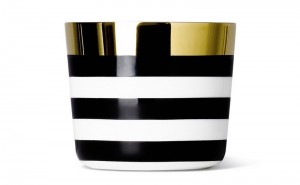 I am tasting the stars: Sip of Gold Champagne Goblets elevates the classic porcelain art
Michael Sieger's unique signature can be recognized in this delicate Sip of Gold Champagne Goblet made of 2 mm thick porcelain from Fuerstenberg manufacture. The elegant gold detailing offers an opulent finishing touch. Trimmed with 24 carat gold, the collection is embellished with a relief pattern. Perfectly sized and Beautifully proportioned. Champagne, S'il Vous Plaît!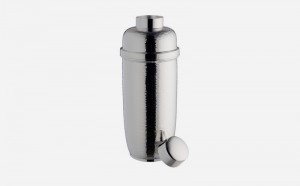 Newlife Silver Plated Cocktail Shaker by Zanetto or how to evoke the atmosphere of a classic cocktail bar
Zanetto's expertise in striking silverware spans from tumblers, to wine coolers and works of fine art. Synonym with elegance and indulgence, this new Cocktail Shaker is worked entirely by hand, finely shaped, polished and finished by the brand's artisans in the Venetian workshop. Pair it with the Velvet Silver Plated Wine Cooler – a functional cooler and an attractive centrepiece.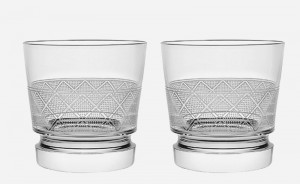 Perfect for entertaining. Perfect for celebrating: Jardin d'Eden Collection
Dutch designer Marcel Wanders and Christofle bring together the tradition of fine crystal glassware and a modern approach to fine dining. With an opulent finishing touch, this glassware collection called "Jardin d'Eden" is designed based on science and the art of mouth-blown crystal. The Garden of Eden is decorated here with Baroque interpretations. The collection includes champagne flutes, old-fashioned glasses, wine glasses, vodka shot glasses, and a whisky decanter to store your alcohol with pride. Ideal for toasting the happy couple's special day and beyond.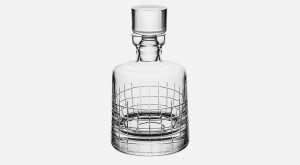 Timeless luxury of cut crystal: The Graphik Whisky Decanter adds personality to your sophisticated bar.
Christofle is updating its precious cut crystal with a bold linear pattern. This Graphik Whisky Decanter from one of the finest silverware houses in Europe encapsulates two centuries of silversmith expertise with contemporary design. The crystal is always hand blown. Many containers are destroyed before perfection is attained. This isn't just a decanter, it is a one of a kind work of art.