The finest tasting caviar can only come from sturgeon fish raised in their native habitat. Fine caviar is meant to be enjoyed straight, identifying every unique flavor as you burst each pearl against the roof of your mouth.
The superior quality caviar has a rich and buttery flavour produced only from native-raised sturgeon. Certified organic and free from preservatives, pesticides and hormones, AmStur Caviar's fresh organic roe sourced directly from the West Coast of North America, is examined for flavour, texture, size, and finally colour before being cured malossol to ensure only the finest quality and taste. The high-end US brand launched the first organic-certified caviar in the UAE.
The luxury caviar brand gracing the tables of the culinary elite, previously available only in some of the region's most esteemed restaurants, now offers the people of the UAE the chance to enjoy the five-star caviar experience, in the comfort of their homes.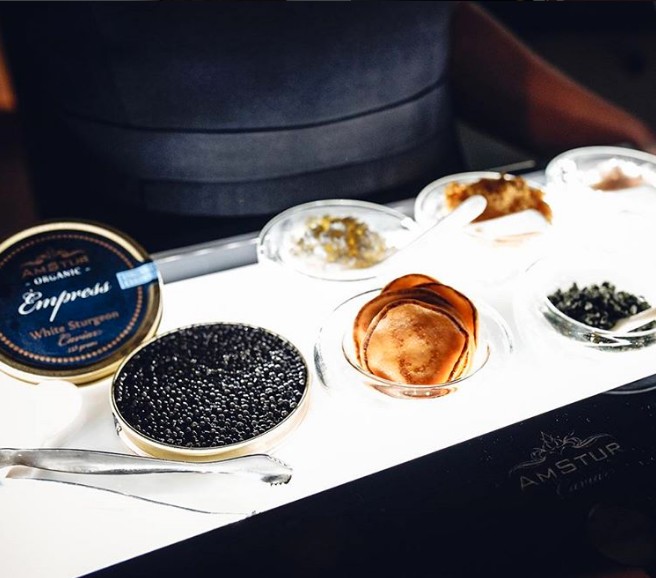 Adding to the unique luxury experience, every caviar purchase will be hand-delivered by the team's caviar chauffeurs, who are trained caviar experts and available to answer any questions about the ideal storage, handling and enjoyment of this culinary masterpiece.
To date, AmStur Caviar has been exclusively available in some of the region's most admired hotels and restaurants, including Emirates Palace, The Four Seasons, Pier Chic and many more
Education is part of AmStur's mantra, priding itself on the ability to offer expert advice. There are a plethora of caviar connoisseurs within the business, including Nicholas Narsavidze, Partner at AmStur Caviar – who followed in his father's footsteps to carry on the family business, before driving the company's expansion into the Middle East.
Did you know caviar is best enjoyed straight? To appreciate the fine buttery flavor AmStur recommends taking a mother-of-pearl spoon topped with caviar and placing it on the joint of your thumb to be eaten straight from your skin!