Plaza Athénée's Royal Suite redecorated by Marie-José Pommereau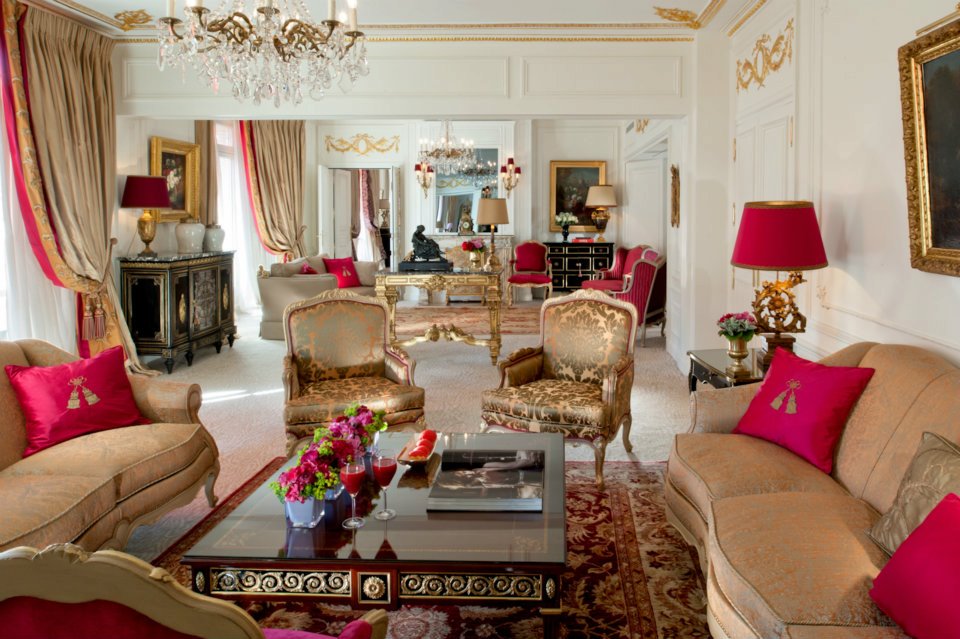 The Hotel Plaza Athénée, renowed as the most spacious, luxurious and most expensive hotel suite in Paris, renovated and redecorated its Royal Suite, the largest suite of the famous Parisian location. With a total area of 450m², it is also the largest suite in Paris.
The luxury and elegance have been combined with high-tech features such as flat screen televisions in all the rooms, sometimes concealed in the mirrors. Among them are four 3D televisions, including two 85-inch screens. Converter boxes that can be used to connect any device to the television are built into the desks or placed on the coffee tables next to the sofas.
While maintaining the classical feel of the rooms and furnishings, Marie-José Pommereau has given the suite a more modern appearance.
The furniture from the Régence, Louis XV and Louis XVI periods, the paintings and the antiques create a look that reflects the purest French traditions of interior design. Like the wood panelling in the 18th-century style, the fabrics by Pierre Frey, Prelle, Dedar, Colony, Zimmer-rohde, maison Lesage's luxury embroidery, silks, damasks and trimmings have all been made by craftsmen working in France's oldest small businesses.
The colour palette, however, has been updated. The first lounge is filled with shades of purple while the second one emphasises the contrast of gold and crushed raspberry. The bedrooms are decorated in apricot for Sir and lilac for Madam.
The most sumptuous Italian marble, specially selected for the Royal Suite in the quarries near Verona, has been used for the bathrooms.
The Royal Suite costs 26,000 €/night (not including breakfast).
Plaza Athénée's Royal Suite comprises four bedrooms, four bathrooms, two lounges, an office and even a galley kitchen. It overlooks the City of Light with a spectacular view from its balcony of the sparkling Eiffel Tower, Avenue Montaigne and its luxury shops and the hotel's courtyard garden, providing guests with a sense of peace and serenity.