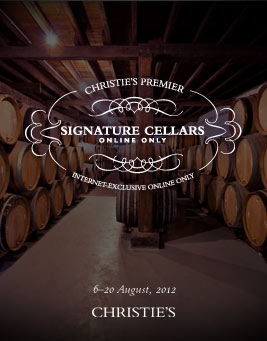 Auction house Christie's is launching its first online-only premier internet-exclusive wine auction. Wine aficionados will find everything from '82 Lafite and Latour at the high-end to hard-to-source California cult wines from Harlan Estate and Screaming Eagle.
Dubbed "Signature Cellars", the online-only auction is expected to attract bids as high as $35,000 for vintage fine wines. Signature Cellars is the first in a series of online-auctions which will run parallel to Christie's traditional on-site auctions. Bidding for Christie's new format auction opens August 6 and closes August 20.
"In keeping with our sentiment of something-for-everyone, there are also great rarities that will inspire any serious wine devotee looking to broaden their cellar, including pre and post-war vintages, magnums of fine Champagne and imperials of Classified Crus, top Châteauneuf-du-Pape in all formats, beautifully-aged rare Vintage Port, and a highly desirable swath of beloved Bandol wines from the legendary Domaine Tempier," announced Christie's.
In 2011, Christie's held an online-only auction for a collection of Elizabeth Taylor jewels which fetched €120.7 million in sales.