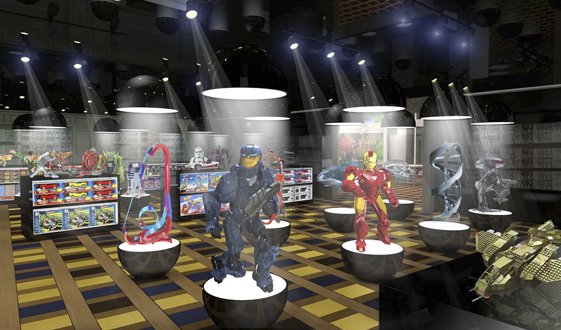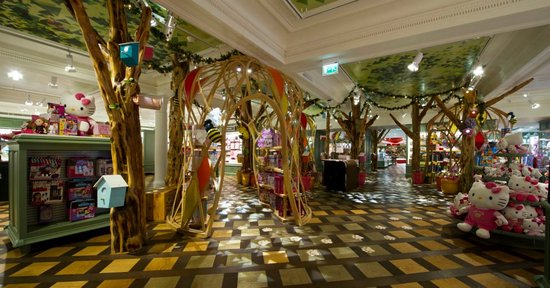 An enchanted forest, intergalactic science lab, a sweet emporium and a toy 'grand canyon', all can be found at the latest Harrods' hotspot for children's toys and books. The new toy kingdom, a 26,000-square-foot multi-sensory department opened at London's Harrods takes the children on a 4D adventure though six individual worlds: The Big Top, The Candy Store, The Enchanted Forest, The Reading Room, Wonderland and The Odyssey.
The Big Top: a fairground of circus acts and candy floss, with magicians and jugglers on stage surrounded by fancy dress costumes, doll houses, rocking horses and soft toys.
The Candy Store: a curious chocolate counter displaying a bizarre array of chocolate fancies and flavours, alongside Papa Bubble who makes flavoursome candy concoctions to order throughout the day.
The Enchanted Forest: fairies whisper from tree trunks, while wigwams on the forest floor house the latest collections from Sylvanian Families and Flutter Fairies, alongside arts and crafts.
The Reading Room: here you can choose from favourite children's stories at the rotunda of books, climb into one of the special cubby holes to hear famous voices reading extracts, have fun with electronic gaming pods and explore the world of Harry Potter.
Wonderland: a colourful 'Grand Canyon' of Harrods' most exclusive and jaw-dropping toys (presided over by a giant dragon) is filled with Hornby train sets, remote-controlled helicopters and Scalextric.
The Odyssey: a gigantic space rocket crashes through the floor and a huge sun bursts through the wall in front of an Area 51-inspired space and gadget zone, complete with alien space pods and limited-edition pieces.